Decent Exposure
Understanding the power of publicity in agency; and it's right under your nose!
Many estate agents confuse agency publicity with property advertising, yet there are subtle distinctions between them that could mean the difference between success and mediocrity for your business.
Part of my work involves helping estate agencies to create distinction within their market so that prospective vendors and purchasers actually have tangible reasons to want to do business with them. I recently asked the principal of a six-branch estate agency about their publicity efforts, as they had implemented some excellent innovations, and I was interested to find out how they were promoting these to the public.
The principal told me that his firm did not need any more publicity as they already took three pages in the local weekly paper and their boards could be found all over their area. I must admit I rather suspected that this would be his reply, as it characterises many estate agents' approach towards promoting themselves.
Whilst your For Sale/Sold boards are of course great advertising, their value is invariably in direct proportion to your existing market share and not the market share to which you aspire – so no territory gained there.
Another problem is that we are acutely aware of the cost of our advertising presence. As a percentage of turnover, estate agency advertising budgets rank among the highest of all comparable industry sectors. However, whilst other sectors spend money on advertising their own products and services, most estate agents spend zero on this, preferring to spend money on promoting their clients' product – their property. We even fund it for them without any guarantee of a return on our investment on their behalf. Then we charge them peanuts for the privilege. Madness!
My reaction is perhaps a little over the top, as clearly we need to advertise our clients' properties in order to attract buyers. But we don't get paid to market - we get paid to sell, and I believe there are more profitable ways of investing your advertising budget, as well as smarter ways of converting buyer enquires into exchanged business.
I have a sad hobby - I collect property newspapers! All neatly arranged by town. I could pick up any one of these and would generally find (with a few notable exceptions) that they would simply contain page after page of property ads written with the sole intention of attracting buyers, and possibly showing prospective sellers that you market property.
However, 90% of the readership of these papers is not looking to buy or sell at this time! Yet almost all of them will have a strong connection with the area and probably own, or will own, a property right on your doorstep.
These are your future clients. Yet we say nothing to them now that is particularly interesting, other than indulging their passing interest in what their neighbour is selling for. All we do is advertise for buyers – 96% of whom will not actually buy from us in any event.*

So we are missing a great opportunity to consistently communicate our key messages and core values to our target market. The reason this is so critical is because when homeowners are considering whom they should invite to sell their property they have a large pool of agents from which to draw, with very few points of distinction between each of them.
The prospect could pick up the paper and request valuations from the red agent, the blue agent, the green agent and the yellow agent. Next question – what do you charge?! No wonder fees have plummeted. We have given our publics nothing of value in the past on which they can make a considered judgement when the time comes, so the only issue left is commission level.
The purpose of this article is therefore to offer the suggestion that in courting your future clients, you should be making more effective use of your local newspaper. Ideally your press releases (what press releases?) should be so well written and newsworthy that you are able to secure regular editorial coverage in the main body of the paper. However, there is seldom enough newsworthy material at your fingertips and you have little control over what is published.
However, you generally do have total control over what is published in your own pages. So why not replace one of two of your ads (or at least 1/6th of a page) with something more interesting? Something more relevant to people who may not be selling now – but who will in the future. Perhaps something lifestyle-related. Tips for sellers, tips for buyers, value-enhancing home improvement ideas, seasonal aspects, how to choose an estate agent, buy-to-let, etc..
A consistent flow of such weekly articles will instantly transform your pages into distinctive vehicles for the key messages of your business, and as such play a pivotal role in the proactive management of your reputation. They will also be the first pages that regular readers turn to because you will be giving so much more than the pictures of houses supplied by your competitors. Your credibility as the authority on property issues in the area will also be significantly enhanced – possibly leading to weightier editorial opportunities in the main paper.
But, I hear you say, that takes an awful lot of time, to deadline, and a shed-load of subject matter to be created; and not all estate agents feel as comfortable writing journalistic articles as they do property details. True. So if you would like to take a shortcut you might like to contact me as I have written over 350 such articles – each of around 300 words and some seasonally adjusted - both for sales and lettings. These are for my clients' exclusive publication unique to their location and are ready for you to cut and paste into your ad pages, website, mailers, window displays, etc..
In summary, publicity is not just about exposure. Good publicity is providing your audience with relevant material that helps them form an opinion about your agency that is more tangible and meaningful than the simple board and ad presence provided by your competitors. Simple really – but easily implemented and thoroughly effective!
*Source: Client research
I hope you have enjoyed reading this RAT (Rawlings Agency Tip) and that it helps your estate agency become more effective. If you'd like to receive future RATs, usually two or three times a month, then do subscribe, free of charge, to the service by clicking the RAT at the top of this page. Alternatively, should you have any estate agency training or estate agency marketing requirements, either for sales or lettings, then please feel free to contact me personally on the number/email link above.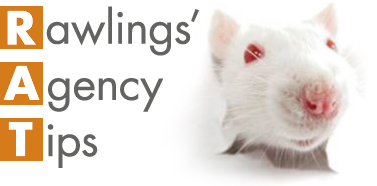 Sign up to the RAT and receive the latest straight to your inbox!