Money-Making Top Tips for Estate Agents
RAT 41 (Rawlings Agency Tip)
The Negotiator Magazine asked me to produce my Top Tips that challenge the norm for the coming year which I hope you find useful here:

1. Don't do "valuations". If you want vendors to judge you on your service and style, rather than your valuation, then avoid the term "valuation". How about a "marketing proposal meeting" instead? A proposal demands a response, whereas a valuation is simply a statement which could cause you problems down the line.
2. Don't encourage referrals. Rather than asking people to refer you for no particular reason, create the type of service that makes people rave about you unsolicited. Wow factor is key here! Some people know how good you are, but thousands don't! So what are you going to do to get people talking about you this year?
3. Stop Advertising Property. Or at least make a conscious decision to replace say 30% of your buyer-focused newspaper adverts with things that are more relevant, engaging and meaningful to the people you need to impress the most -vendors! (Eg property articles, market comment, surveys, moving tips, etc). Or I can do it all for you! You can find details of my Property Article Programme by hitting the purple button on the top left of this page.
4. Pay impressive salaries/commissions. When volumes are low, it is critical that you attract and retain the very best staff in the area. An excellent negotiator/manager may cost you 30% more than an average one, but this is still 33% less than the cost of two average ones! Not only will they contribute greatly to your business, but they are also usually easier to manage as well!
5. Untrain your staff. If your staff are still employing the techniques they were using during the boom, it's time to "untrain" them and provide them with the right tools for this market, so that you can maximize today's opportunities. Only when the latest innovations in agency technique are employed alongside excellence in the basics will they really shine. Then they'll not only deliver more profit into your business, but they'll enjoy their job more and are likely to remain with you longer. (If you'd like to know more about the training services I offer please drop me an email at rrawlings@estateagencyinsight.co.uk)
6. Act for your buyers. You probably fail to sell to over 90% of your registered buyers, often because you simply don't have the right property for them at the right time. So why not represent your buyers, giving you access to every property on the market? And no – there need never be any conflict of interest issues! Please email me if you'd like further information on this, or you can read a dedicated article about this here.
7. Don't cut costs. You've probably already done as much cost-cutting as you can. Any more could be fatal! Now it's time to invest for growth. Not in office refurbs, cars or graphic design, but in cost-effective training, marketing and staffing. Speaking of staffing, did you know that you will soon be able to hire estate agency staff direct without having to pay enormous recruitment agency fees? Joshua Rayner, former joint MD at www.doveandhawk.co.uk is just about to launch www.propertyjobsdirect.com so watch that space!
I hope you have enjoyed reading this RAT (Rawlings Agency Tip) and that it helps your estate agency become more effective. If you'd like to receive future RATs, usually two or three times a month, then do subscribe, free of charge, to the service by clicking the RAT at the top of this page. Alternatively, should you have any estate agency training or estate agency marketing requirements, either for sales or lettings, then please feel free to contact me personally on the number/email link above.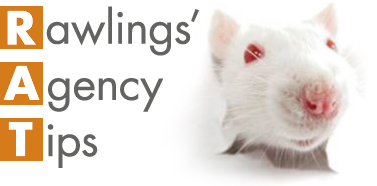 Sign up to the RAT and receive the latest straight to your inbox!