Are Customer Satisfaction Surveys a waste of time?
RAT 44 (Rawlings Agency Tips)
I don't know if you conduct customer satisfaction surveys. If not, don't worry as I believe they are probably not only a waste of time, but they can also give you a false sense of security that can put a dampener on your progress and profitability. There are far smarter ways of impressing your prospects.
The problem with Customer Satisfaction Surveys (CSS) is that they seek to enlist the help of the wrong people – the customer! The customer is frankly the last person we should be asking about how to operate our business! What do they know? This may fly in the face conventional wisdom, but consider the following example:
If I am training a group of estate agents on the other side of the country I can't risk being late, so I usually stay in a hotel the night before a seminar. So as you can imagine I stay in hotels rather a lot – probably once or twice a week. During my stay I am often presented with a CSS form to complete, giving marks out of five for things like cleanliness, courtesy of staff, food, and facilities. As the hotel tends to be as expected, and I have no particular concerns (after all I just want a good night's sleep), it would be easy form me to give a 5/5 rating (although frankly I can't be bothered to complete the form - what's in it for me?). The hotel then assumes that their customers are fully satisfied and that there is nothing more they can do to impress their guests. That's the problem. I may be satisfied, but am I delighted? No. I am ONLY satisfied. I'm certainly not going to tell my friends what a wonderful stay I had. It was average, yet still got 5/5!
What about the £30,000 a night Lagonissi Royal Villa Hotel, Athens. Presumably I'd also give that a 5/5. Does this mean that the £88 a night Premier Inn in Leeds is on a par? Apparently so, if the customers are to be believed!
Surely the purpose of customer satisfaction surveys is that they can be used to understand what our customers actually want. Yet they don't know. All they think they want is the best price for their house at the cheapest fee. All that mobile phone users originally wanted was to make and receive calls. It was not the customer, but the phone developers who correctly imagined that their customers would love the added advantages of a camera, PC synchronisation, GPS, internet access and thousands of cool apps, none of which the customer ever imagined was even possible, let alone available.
The other purpose of customer satisfaction surveys is presumably to brag about how satisfied your customers are. So often I see agents claim that "94.6% of our customers would recommend us to a friend". But do they actually do so! If they have nothing to rave about then they probably won't bother. Since when did I phone a friend to say that I had an acceptable stay in a hotel last night? (even though it scored 5/5!). Whilst there is some comfort in prospects knowing that other people have not been unhappy with you, this is hardly proactive promotion.
A much more useful form of survey would be to question those people who did not instruct you. Find out why, in detail; and what was it about your competitor that won them the business instead of you. Such learning can be extremely profitable, and helps you understand which elements of your business you might wish to promote. It probably has nothing to do with your opening hours, portal subscriptions or professional memberships, but something more subtle that impressed the customer.
So ultimately, it's up to you to lead your service, and indeed industry standards, to the next level; not the customer! So what would your customers LOVE? Do let me know if you'd like to arrange an ideas workshop.
I hope you have enjoyed reading this RAT (Rawlings Agency Tip) and that it helps your estate agency become more effective. If you'd like to receive future RATs, usually two or three times a month, then do subscribe, free of charge, to the service by clicking the RAT at the top of this page. Alternatively, should you have any estate agency training or estate agency marketing requirements, either for sales or lettings, then please feel free to contact me personally on the number/email link above.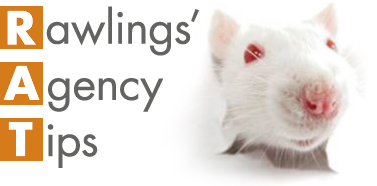 Sign up to the RAT and receive the latest straight to your inbox!