How to Impress a Vendor Phone-In
RAT 46 (Rawlings Agency Tips)
I've just got back from training a group of estate agents in beautiful Co.Galway, Ireland. I was talking to one of the agents (and boy have they had it tough over there with a 50%+ drop in values - some agents haven't done a sale in a year!) and we got onto the subject of how sometimes the simplest ideas are so obvious they pass us by. Here's one about how to get people to feel extremely comfortable inviting you on an appraisal by managing their perception of your area of specialisation.
Imagine that you are thinking of selling your home - say a family house. Presumably you'd prefer to instruct an agent who specializes in the sale of family homes in the area. Likewise, a studio apartment, a sea-front property, a modern house, a period home, a loft conversion, etc.
So why not try this. Allocate areas of specialization to each of your colleagues. When prospective vendors phone in they should be asked what type of property they have to sell, by the receptionist or whoever takes the call. They are then told "I'll just put you though to our family house specialist", or "may I get our loft conversion specialist to call you back?".
The client is immediately impressed that they will be dealing with precisely the right person (possibly in the whole of your area) to handle their sale. There is no reason why each agent should not become a specialist in one or more types of properties, and what a great way to encourage people to become predisposed towards you before you even step through the door.
Easy and effective - apply it today! (Just bag the best categories of property for yourself!!!)
Quote of the Day: "If you don't risk turning people off, you'll never turn anybody on!"
I hope you have enjoyed reading this RAT (Rawlings Agency Tip) and that it helps your estate agency become more effective. If you'd like to receive future RATs, usually two or three times a month, then do subscribe, free of charge, to the service by clicking the RAT at the top of this page. Alternatively, should you have any estate agency training or estate agency marketing requirements, either for sales or lettings, then please feel free to contact me personally on the number/email link above.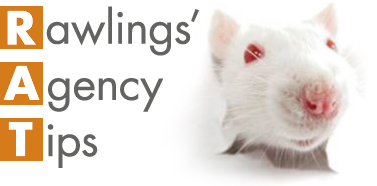 Sign up to the RAT and receive the latest straight to your inbox!