I guarantee this works!
RAT 56 (Rawlings Agency Tip)
The use of guarantees is a tried and trusted way of generating business in the retail sector. Incredibly, they are seldom used in estate agency, yet they are hugely effective as they almost completely remove your client's risk whilst substantiating your own credentials.
Risk removal is one of the greatest weapons in your armory when pitching for an instruction. People know they have a choice of agencies, many of whom appear to offer more or less the same type of service. These sellers then have only two apparent criteria on which to judge you – your suggested valuation and your fee. But both of these carry risk for the vendor; Risk 1) "Will they get me an acceptable price for my house", and Risk 2) "Am I paying too much for their service?"
This is where the guarantee comes in, especially if the client actually prefers you over the other agents, but has doubts about you fully satisfying their above objectives. A guarantee only works if someone is minded to say "yes" but has niggling doubts, or finds decision-making difficult. Then the guarantee comes to the rescue with "Well, if it's the wrong decision I can always get my money back!"
Indeed, according to Indicator Research, sales increase by at least 16% when a guarantee is offered. And the more outrageous, or "unreasonable" the guarantee, the better. Sales guru Brian Tracy recounts the story of the restaurant rodent control service that rocketed their market share from 17% to 80% when they offered a guarantee that would not only repay any monies paid in the event of re-infestation, but they would also pay for a competitor to come in and re-treat the property better than they did. They would also settle any health and safety fines, and recompense the client who noticed any rodent in the premises. The company was able to raise its charges eight-fold as a result. High risk? Yes. But the payback in new business generated far outweighed the risk of any claim.
I suggest you do the same and find an outrageous guarantee for your estate agency. How about "if we don't find you a buyer within six weeks, we won't charge you a penny!" or use the emotional prompt of £500 to the client's favorite charity if you don't sell their house within six weeks. These types of guarantee certainly have impact, and could just tip the balance between you and the other agent. Clearly you'll have to consider the conditions of the guarantee, especially in respect of asking price, but generally speaking, the simpler the guarantee the better.

Guarantees have to be clear, unambiguous and BIG. They must never confuse, or be boring. Nor should they be vague; eg "service guaranteed" without any substance behind it is probably counterproductive.
Additionally, make a point of promoting the guarantee during an instruction meeting, so the client realizes that this is something different, of which you are proud. What does it say about your company? (Just as in the same way, the removal of a long period of sole agency can also be a highly effective way of securing an instruction whilst making your competitors look unsure of themselves. But you have to remember actually to use this as an actual technique).
Even the use of the word guarantee can help. Try looking a prospective client in the eye, saying "I guarantee you won't be disappointed". It's powerful stuff!
I know it works because I offer a simple guarantee myself, in respect of my bespoke estate agency consultancy and training courses. It simply says that "if you don't enjoy the training, don't pay my bill" .In 10 years of offering this guarantee, nobody has ever felt the need to use it, yet I know it has encouraged many agency principals to book training that they might otherwise have put off.
Offering a guarantee is one of those situations where you need to be bold – if for no other reason than nobody else is actually putting their money where their mouth is. Try it…I guarantee you'll see results!
I hope you have enjoyed reading this RAT (Rawlings Agency Tip) and that it helps your estate agency become more effective. If you'd like to receive future RATs, usually two or three times a month, then do subscribe, free of charge, to the service by clicking the RAT at the top of this page. Alternatively, should you have any estate agency training or estate agency marketing requirements, either for sales or lettings, then please feel free to contact me personally on the number/email link above.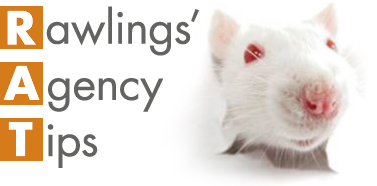 Sign up to the RAT and receive the latest straight to your inbox!