Engage and control your future clients
RAT 61 (Rawlings Agency Tip)
I am passionate about helping estate agents engage with their key target audience - ie local homeowners. Indeed, your ability to do this well is pivotal to the number of prospective new vendor enquiries you receive.
Whilst there are many techniques that good agents embrace, their websites can be lacking in imagination. After all, if someone likes some aspect of your marketing and is inspired enough to visit your website, it's a shame not to engage with them there and then.
So how about this simple yet effective idea...put an "Ask Me a Question" box on your website. Visitors are invited to ask anything at all about their moving situation, the market, a property problem etc. These automatically generate an email to you and your answers to their questions not only provide helpful information and solutions, but also start a dialogue with the prospect that can often lead to an instruction, especially as it starts as a low-risk approach from their perspective. (It is important not to ask for their address or contact details at this stage).
Additionally, why not show a blog of the question feed? This then becomes a living FAQ that anyone can access, as people are always interested in other people's issues. Of course, you would edit out any stupid questions and some agents I'm sure would even consider feeding in their own pre-scripted questions to make themselves look good - but I didn't say that! Definitely worth asking yout IT person to do something here.
I hope you have enjoyed reading this RAT (Rawlings Agency Tip) and that it helps your estate agency become more effective. If you'd like to receive future RATs, usually two or three times a month, then do subscribe, free of charge, to the service by clicking the RAT at the top of this page. Alternatively, should you have any estate agency training or estate agency marketing requirements, either for sales or lettings, then please feel free to contact me personally on the number/email link above.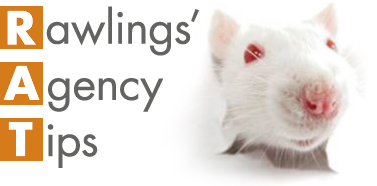 Sign up to the RAT and receive the latest straight to your inbox!