Estate Agency Trainer Turns Crimefighter
RAT 64 (Rawlings Agency Tip)
You never quite know when you are going to be required to chase a criminal though the city streets. Last week it was my turn.
I had been training a dozen or so estate agents from an independent agency in Stratford-Upon-Avon – not you might think the crime capital of the country.
During the lunch break the delegates left the hotel conference room for a break and I was left by myself for a few minutes. Then the courtesy phone in the room rang. I answered it and the caller said "There is an email for Richard waiting at reception". Very odd, I thought, as nobody at reception knew my name and would certainly not be emailing me there. There was obviously some mistake so I decided to put the door on the latch (as I did not have a key for it) as I was only going to be a few seconds as the reception was down one flight of stairs.
Sure enough there was no email for me so I returned to the room passing a man on the top of the stairs. As I approached the meeting room the door was closing, suggesting someone had just entered or left it. However there was nobody in the room and I immediately realised that the man on the stairs was the only person who could have been in there. But he was not one of the delegates! He was about 45 and dressed in grey suit trousers and a white shirt. He did not look at all out of place in a conference hotel.
So I followed him down the stairs and out of the building. As I caught up with him I asked him why he was in our room. He denied this and even denied being in the hotel at all. So knew he was lying. So I told him I was calling the police as I suspected him of theft.
When he heard that I really was calling 999 he started to walk, faster and faster. So did I. He broke into a run. So did I. We ran about a mile, over the main bridge in Straford, past shops and offices and through groups of Japanese tourists who thought it was some sort of show – one balding middle-aged suited bloke running after another balding middle-aged suited bloke. Sadly I don't know what is Japanese for "stop thief"!
All the while I was on the phone breathlessly directing the police and within a few minutes three police cars swooped and tackled the front-running balding middle-aged suited bloke who of course denied everything. Funny though – he had two mobile phones on him that he could not identify!
He was arrested on the spot and taken into custody. Sadly I had to walk back, knackered, to the hotel about a mile away, as police cars are only insured for criminals and may not be used as a taxi service!
So if ever I'm a few minutes late for your training seminar, don't worry, I'm probably fighting crime. Na na na na, na na na na, …RATman!
Quote of the Day: "Society prepares the crime; the criminal commits it!" Henry Thomas Buckle
I hope you have enjoyed reading this RAT (Rawlings Agency Tip) and that it helps your estate agency become more effective. If you'd like to receive future RATs, usually two or three times a month, then do subscribe, free of charge, to the service by clicking the RAT at the top of this page. Alternatively, should you have any estate agency training or estate agency marketing requirements, either for sales or lettings, then please feel free to contact me personally on the number/email link above.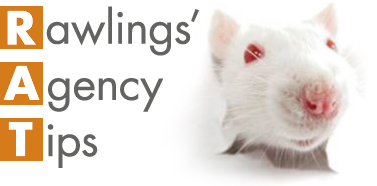 Sign up to the RAT and receive the latest straight to your inbox!