Mary Portas
RAT 74 (Rawlings Agency Tip)
Last night's TV show: You may have seen last night's superficial and ill-informed Channel 4 programme "Secret Shopper" with Mary Portas about customer service in estate agency. I wonder if you cringed as well. Not just at the somewhat ill-informed claims by some of the agents at the beginning of the programme, but primarily at the condescending and belligerent Portas herself.
A few weeks ago I was approached by Mary Portas' producer when they were researching the show. It was clear then that Mary's views on "customer service" with buyers were extremely naïve. This was borne out in the show with her incessant focus on viewings and in particular the apparent need to be uber-informed about the minutest detail when conducting a viewing. As you know, viewings are not the be all and end all of agency.
She completely ignored the most important aspect of customer service to the paying client, the seller, nor the fact that successful agents focus on getting numbers around property, not taking up a buyer's time by explaining how the flippin' boiler works. I agree with Simon Gerrard that properties do generally sell themselves – although agents should be well informed about schools etc and be honest about activity levels (it's an offence to misrepresent the interest in a property). Far better to get to know your buyers first and then "explore" the property with them, with their preferences in mind.
As for people simply posting their own property privately on-line – I don't even need to go there! (see "Back-RAT" article on private sellers below)
I spent about an hour sharing some really meaty and radical customer service initiatives with Mary Portas' producer – none of which they chose to use, and despite my being promised a listing in the credits, the consultant to the show was shown as Peter Cross. Who is he and what does he know about agency? Nothing – he's her partner I discover! Having said that I did quite like the "What we noticed" points on property details, demonstrating transparency.
I'm glad that Martyn Gerrard eventually came out well in this staged and sensationalist attempt by Portas to perpetuate the unfortunate media-generated stereotype, and having been the judge on the Estate Agency of the Year Awards that assessed his customer service submission I can tell you that some of his excellent customer service initiatives go far beyond Mary Portas' self-serving circus show.
Buyer Representation: I know I keep banging on about this, but www.thehomebuyercentre.net is really taking off – with 30 estate agency branches now having become exclusively licensed centres. I'm enjoying training them to add this exciting new revenue stream to their existing agency business. There are lots of open evenings planned, with the next one being in Bristol next Wednesday 16th Feb. It would be great to see you there and you can reserve your place at http://homebuyercentre170211.eventbrite.com/?ref=ecal
Employment Opportunity: A client of mine in the Isle of Man is looking for a couple of good agents to help them maintain their enviable position as leaders in the field on the Island. If you know of someone who might enjoy a tax-efficient career move to a charming island (which is a bit like a cross between Cornwall and the Lake District) then please drop me a line and I'll put you in touch.
Likewise, if you know of any young people who might enjoy doing a sales/letting agency apprenticeship as an alternative to university, or you would consider employing a bright young person yourself under a government subsidy, then check out www.bloombi.com (N.London, Birmingham and Manchester only at this stage).
I hope you have enjoyed reading this RAT (Rawlings Agency Tip) and that it helps your estate agency become more effective. If you'd like to receive future RATs, usually two or three times a month, then do subscribe, free of charge, to the service by clicking the RAT at the top of this page. Alternatively, should you have any estate agency training or estate agency marketing requirements, either for sales or lettings, then please feel free to contact me personally on the number/email link above.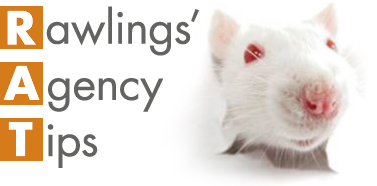 Sign up to the RAT and receive the latest straight to your inbox!