Doubling up on instructions
RAT 80 (Rawlings Agency Tip)
Do you ever conduct property appraisals with a colleague? My research suggests that you have about a 40% higher chance of success in securing an instruction where two people attend. I would suggest the reasons for this are as follows:
1. You have double the chance of establishing a good rapport with the vendor. If you don't immediately hit it off, maybe your colleague will.
2. You have double the chance that you will have something in common with the vendor, thereby building a faster stronger relationship with them.
3. You can have an enthusiastic conversation with your colleague, in front of the vendor, about which buyers you might expect the property to be suitable for. Eg "This would be perfect for Mrs Jacobs wouldn't it?"
4. You can also strategically disagree with your colleague over price in front of the vendor. Eg You might suggest the high price the vendor wants, whilst your colleague can be a moderating influence, citing evidence of lower priced properties available. This blends passion with reality and provides you with either a well priced property or an easier subsequent price reduction ( or rather a "repositioning in the market")
5. There are two known points of contact with your firm, which enhances the client's experience with you.
6. The property is front of mind with both of you.
7. The vendor is impressed and knows that you regard this as an important instruction.
8. Your personal security is much higher.
9. You may never know why your colleague is so successful at picking up instructions until you see their style in the field. Joint attendance provides an opportunity to learn good practice from each other.
10. It's more fun!
Whilst there is of course a resource issue here – ie double the manpower, the maths actually works out. If you have, say, a 50% conversion rate, doubling up could well increase this to 70%. Try it and let me know how you get on.
I hope you have enjoyed reading this RAT (Rawlings Agency Tip) and that it helps your estate agency become more effective. If you'd like to receive future RATs, usually two or three times a month, then do subscribe, free of charge, to the service by clicking the RAT at the top of this page. Alternatively, should you have any estate agency training or estate agency marketing requirements, either for sales or lettings, then please feel free to contact me personally on the number/email link above.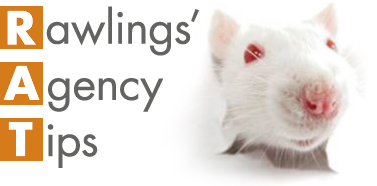 Sign up to the RAT and receive the latest straight to your inbox!