Google your clients
RAT 85 (Rawlings Agency Tip)
You will no doubt agree that it is important to find ways of connecting with your vendor prospects within seconds of walking through the door. This is the time when first impressions are forged. If you have a degree of understanding of your client then you start off in pole position.
So why not Google the vendor before you go (or LinkedIn/Facebook/Twitter them). it's amazing what you can discover! You may find out that Mr Pearce is an accountant, in which case speak slowly and methodically and use lots of logical statements, facts and figures. Perhaps Mrs Jones is a Governor at the local school so you remind her how important it is that you take buyers' schooling needs into account when showing her property to them. Okay, so this is sucking up, but it can be the difference between getting a £5,000 instruction or handing it on a plate to a competitor who did his/her homework!
I hope you have enjoyed reading this RAT (Rawlings Agency Tip) and that it helps your estate agency become more effective. If you'd like to receive future RATs, usually two or three times a month, then do subscribe, free of charge, to the service by clicking the RAT at the top of this page. Alternatively, should you have any estate agency training or estate agency marketing requirements, either for sales or lettings, then please feel free to contact me personally on the number/email link above.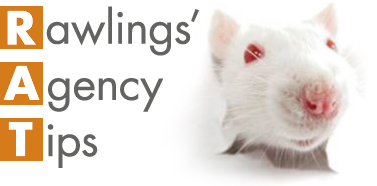 Sign up to the RAT and receive the latest straight to your inbox!