Professional? Ha!
Sorting the panel-beaters from the embroiderers in estate agency.
(Exclusive to Estate Agency News)
One question has been on the lips of almost all the estate agents whom I have met at various meetings and training sessions over the past couple of months; namely, "what do you think of the agents featured in the fly-on-the-wall TV documentary "Property People"?"
I agree with the overwhelming consensus of opinion that the agents featured have significantly shot themselves in the foot and are certainly not doing our industry any favours at all.
Thousands of agents around the country must cringe with anticipation every Wednesday evening wondering what sort of PR clanger will be dropped next. And the public must be cringing too, especially those who are thinking of moving. Just when they were beginning to think that the industry had moved on, their long-standing prejudices about estate agents are once again being re-ignited. What a shame!
Of course, there is a flipside which many agents will be able to turn to their advantage. The public is likely to be much more wary of estate agents, with the effect that "professional" agents will be perceived as being worth paying for, if only to avoid some of the practices and attitudes featured in the programme. As one client told me, "…they represent everything I don't, which makes me look really good!"
Such programmes are highly edited and the production team is naturally more interested in good TV entertainment than in promoting the value and integrity of estate agents. This is why I usually advise my clients to decline national TV publicity, especially when local coverage is far more relevant, desirable and profitable.
But the subject does raise the question, "what distinguishes the professional agent from the mediocre one?" The answer has probably varied from decade to decade in line with the changing face of the consumer, coupled with a corresponding change in styles of salesmanship. The consumer is increasingly sophisticated and will simply not be "sold to" anymore.
Heavyweight industries such as retail, airlines, telecoms, leisure and motor all spend vast amounts of money on research, development and marketing. The result is that they tend to prompt and drive ever-changing consumer opinions, preferences and aspirations. Virgin Atlantic and Easyjet did for air travel what BA missed, and passengers now have new levels of expectation of airlines. Barclays Bank was the first to introduce the ATM "Cashpoint" machine– impressing their customers magnificently and attracting new ones in droves.
Yet in our highly fragmented industry, we do not invest so effectively, despite our increasing reliance on technological improvements. Agency attitudes have in many instances remained the same as they were years ago, despite the fact that the customer has moved on dramatically – leaving "small-time" estate agents behind. Sales as an industry has tended only to advance as we see our existing methods begin to fail.
For example, salesmanship in the 1970's was a relatively passive and unsophisticated product-based approach. The salesman would say "This is what we do; are you interested in buying?"
Progressive sales managers soon realised that they should be getting more out of their sales people and the 1980's saw a swing towards a much more aggressive stance such as that displayed by the company featured in "Property People". The arrogant, crude, aggressive, pushy "in-yer-face" stance typical of the decade put the salesperson's needs ahead of everything else, especially the customer. Intense internal competition and overbearing management led to sharp practice, discontent and a high staff turnover. Repeat business was minimal and recommendations few.
By the 1990's, smart agencies had recognised that the consumer was rejecting such attitudes and turned to a more consultative approach. This was based on a solutions-led service where the agent saw him/herself as a helpful supplier of relevant services to the home-buying public, which was highly effective in diffusing the fear of the techniques used during the previous decade.
So what now? I believe each decade has a distinctive quality of its own, and top agents have already recognised this. They are making a subtle but important move from the consultative sale to the relationship-led empathetic sale. Not just "how can we help?" but more "we're on your side, and we'll be with you all the way". This opens up huge avenues of service, profit opportunities, and long-term business loyalty that the agents mentioned above probably cannot even comprehend.
We live in an exciting decade, where progressive agents employ a "new professionalism". Of course, professionalism is a vastly overused word. It used to relate to doctors, lawyers, accountants and bankers, but today anyone and anything can be "professional". I have seen "professional key-cutting service" and even "Lucas Professional" on a loo roll wrapper!
All agents would no doubt regard themselves as professional, even the cowboys. So what does it actually mean, or rather, what should it mean? One of the first things delegates on our agency training courses do is explore their own definition and how it relates to them and their business. Ultimately, I would suggest that professionalism is "consistently meeting and exceeding our publics highest possible expectations of us in every area" with emphasis on the phrase "highest possible".
This means going far beyond our customers' usual hopes, and is limited only by our imagination as to what great service can possibly look like. The professional agent, working empathetically, constantly sees the world through the eyes of the buyer/seller and thinks not "what is the least I have to do" but "what is the most I can possibly do".
It's the small touches that count. It might be enthusiastically arranging for all your staff to see the house within 24 hours of listing, or arranging to read the electricity meters on moving day. There are dozens of small things (or CNE's – Critical Non-Essentials) that you can do that I guarantee can be used to make a huge difference to your reputation and your immediate bottom line. But don't wait for your customers to tell you what they want – they haven't even thought of it yet! That's YOUR job!
I hope you have enjoyed reading this RAT (Rawlings Agency Tip) and that it helps your estate agency become more effective. If you'd like to receive future RATs, usually two or three times a month, then do subscribe, free of charge, to the service by clicking the RAT at the top of this page. Alternatively, should you have any estate agency training or estate agency marketing requirements, either for sales or lettings, then please feel free to contact me personally on the number/email link above.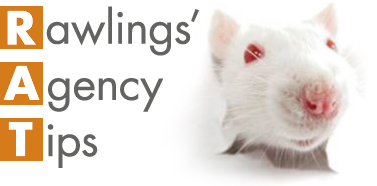 Sign up to the RAT and receive the latest straight to your inbox!