How to get the Instruction on the Day
RAT 95 (Rawlings Agency Tip)
How often do you go on an appraisal hoping to come away with the instruction but have to go away so the seller can "think about it"! What does that mean? What is there to think about? If you don't secure the listing at the time of your visit I'd guess you reduce your chances of getting it at all by about 30%. Let's look at the psychology behind this annoying conclusion to many marketing proposal meetings and what can be done to remedy the problem...

The vendor has to make two massive decisions – the decision to move, and then the decision to appoint the right agent. The consequences of each could be literally life-changing. So it's safer and easier not to make a decision at all! The hardest decisions are those where there are many options (think of a restaurant menu!) If the vendor is considering several agents, each with their own style, reputation, fee structure, sole agency period, and suggested asking price, no wonder the seller struggles to decide. So make it easy for them.

You may well have spoken to sellers who gave the instruction/listing to another agent but told you that you were "so close" or it was the "flip of a coin". The fact is you probably very nearly got most of the instructions that went elsewhere. So what could have influenced the vendor in your favour? I'd suggest the following three concepts "assumption", "control" and "closing".

ASSUMPTION: It's easier for a seller to decide to instruct you if they feel they are already some way down the line. So use the present, rather than the future or conditional, tense in both your conversation and your written communication. Eg instead of "should you decide to instruct us…" try "when we begin marketing…" If the vendor is not yet ready to allow you to use this language they'll let you know. But the chances are that they would prefer to work with someone who demonstrates such a confident approach.

CONTROL: The client is not in charge here – you are! That's what they pay you for! It's easier for them to make a decision when they have put themselves in your capable hands. So instead of "Could we start to bring people round this weekend", try "I'd like to bring three buyers round on Saturday afternoon". Also you can gain control by touching their stuff! Eg "before we bring people round could we just move this chair to this position as I want people to get a clear view of the garden…" Additionally give strong unequivocal advice whilst enlisting your client's help eg "could I ask you to move those coats off the back of that door please?"

CLOSING: Many agents are weak in this area although you do have to earn the right to the business before you close. Nevertheless there are some trial closes you can use as you progress through your conversation with the seller. Eg "Would you be comfortable with me as your sole agent", or "Do you have a preferred agent in mind" or "Have I passed the interview? These approaches swing the emphasis away from price and fee and on to the importance of selecting the right agent.

Your role is to help the seller make the right decision that is genuinely in their best interests which, without your involvement, they might have had difficulty making. After all, would they rather appoint a weak agent or one who demonstrates their ability to sell?
I hope you have enjoyed reading this RAT (Rawlings Agency Tip) and that it helps your estate agency become more effective. If you'd like to receive future RATs, usually two or three times a month, then do subscribe, free of charge, to the service by clicking the RAT at the top of this page. Alternatively, should you have any estate agency training or estate agency marketing requirements, either for sales or lettings, then please feel free to contact me personally on the number/email link above.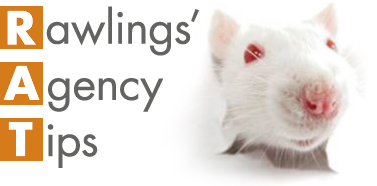 Sign up to the RAT and receive the latest straight to your inbox!