Combining Two Methods to Secure an Instruction
RAT 98 (Rawlings Agency Tip)
I am always interested in observing how the sales and marketing initiatives employed by other industries can be applied to estate/letting agency. In this RAT, I want to highlight how two such examples, when combined, can contribute powerfully to your instruction conversion success.

Firstly, I was reading through "The Week" (a cross between the FT and Hello Magazine) recently and as ever gravitated to the double page spread entitled "Best Houses on the Market" as gleaned from various publications over the past 7 days. These usually have a theme – eg Best Riverside Homes, Best City Apartments, Best Former Vicarages, Best Properties with a View etc. In other words, a specific focus.

Secondly, I was approached by a salesperson from the Independent who told me that they were just about to run a feature on Scottish Islands and would I be interested in taking out an ad alongside the piece promoting my holiday rental cottage in Skye? (nb 10% off for RAT subscribers - check out www.ourhouseinskye.co.uk if you're interested!)

It struck me that if you as an agent were to combine these two concepts you would not only position yourself as a specialist in a number of rotating sectors (ie Village Homes, homes with Original Windows, Unmodernised Properties, New Homes, Houses with Land, Garden Flats, etc) but you would also be able to add a sense of urgency to your marketing proposal meeting. Eg "Mrs Vendor, we are running a feature in the local paper/web campaign about Houses with a Pond next week. I'd love your property to take pride of place in that, but we'd need to move quite quickly."

Taking this one step further you could of course wait to decide which topic you will feature until such time as you have a suitable instruction you are trying to secure. Do let me know how you get on if you decide to use this tip!
I hope you have enjoyed reading this RAT (Rawlings Agency Tip) and that it helps your estate agency become more effective. If you'd like to receive future RATs, usually two or three times a month, then do subscribe, free of charge, to the service by clicking the RAT at the top of this page. Alternatively, should you have any estate agency training or estate agency marketing requirements, either for sales or lettings, then please feel free to contact me personally on the number/email link above.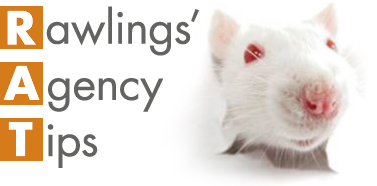 Sign up to the RAT and receive the latest straight to your inbox!