Anti-Social Networking
RAT 99 - Don't be a Tweet!
Do you push your properties on Twitter? Beware! It could be lulling you into a false sense of security that you are at the cutting edge of modern estate agency marketing. I'm sorry to say that most estate agents are not! In fact, inappropriate use of social networking can do more harm than good.

When I ask agents what cost-effective marketing activities they are undertaking in order to promote their business, many of them proudly say that they use Twitter. Not one of them tells me that it has made any difference whatsoever to their business, but they feel that they ought to use it anyway. I have my suspicions as to why this might be
I have just looked at the recent Tweet history of 40 estate agents at random and am more convinced than ever of agents' inability to understand the basic principles of effective marketing, both in terms of quality and quantity.

Quality:
All but two of the Tweet histories I reviewed simply promoted properties to the agents' followers. Pushing property in this way is like going into a crowded shopping centre and walking up to people at random, thrusting a set of property details into their hand, and shouting in their face "do you want to buy this house?" What would be the effect of this? Firstly, the chance of them wanting to buy at all is probably about 98% against. And at that price range? And that particular property? Ridiculous! In fact, you will most likely have demonstrated how little you understand that person. Chances are that you will have annoyed and alienated them so much that they will go out of their way to avoid you in the future for fear of being bombarded with such irrelevancies again.

Just dumping your stock on Twitter and thinking you're cool is simply wrong for your business and is just another form of tediously boring spam. And we all hate spam. However, when used correctly, Twitter can be a highly effective way of marketing your agency whilst going some way towards elevating our industry's reputation.
Of course, before undertaking any marketing activity, you should identify your target market. Is it buyers or sellers?

Buyers? If you are hoping to attract buyers then no-one's going to follow you on Twitter and hope that you might just Tweet the right property for them. They'll use the portals and/or possibly register with you either directly or via your website, if you're lucky. There is simply no case for Tweeting your stock.

Sellers? I would expect that you are keenest to attract sellers, because, frankly, as long as you have saleable stock then you'll attract buyers by default. Your ability to attract sellers is critical to your success in agency. But what does dumping Tweetyspam properties on them achieve? All it does it annoyingly inform them that you have some houses on your books! So what? Does a restaurant advertise the fact that they sell food? Of course not – but they might advertise how enjoyable it might be to dine with them.

If you are going to influence sellers you should provide them with something relevant, meaningful and of value – on their terms. Smart agents recognise this and are starting to handle their followers with kid gloves. I suggest you regard all your subscribers as if they were friends or relatives. Do you phone your sister to tell her that you have just listed a three bedroom house in Belvedere Road! Of course not. But she might be interested in the fact that prices in her area have risen 27% above the national average. Or she might like to know that confidence is returning to the buy-to-let sector, or that interest rates are unlikely to rise in the foreseeable future. She might even be wondering whether it's worthwhile extending her property before selling it, whether her old EPC is still valid, or whether she should instruct a corporate or independent agency when her time comes to sell.

There are hundreds of topics that are potentially of interest to homeowners (each of whom is a prospective seller) and your ability to express these in an informative, and ideally entertaining, way is critical to how you are perceived in your market. Surely if you can demonstrate that yours is the voice of authority, then you quickly become the obvious agent of choice.

Vendors know that estate agents sell houses. Your job is to convince them that they would prefer to do so through you. In doing so you add value to your service meaning you secure more instruction opportunities and can charge higher fees.

A caveat would be that there is a significant comfort factor for prospective vendors seeing that you do indeed handle the sale of properties like theirs, so it is always worthwhile ensuring that three or four of your best properties feature in any pages to which your Tweets link.

Quantity:
In terms of numbers, 95% of the Tweeting agents I reviewed had fewer than 350 followers. I'd guess that half of these could be friends, family, staff and competitors. The remainder probably comprises a high number of existing clients/applicants, meaning very few new business prospects are being influenced. Given that most estate agents operate in areas comprising 40,000-100,000 residents, most are only communicating with a target audience of fewer than 0.5% of these. Pathetic!

Your target audience may be sellers, but in practice you don't really know which homeowners in your area are thinking of selling. The key here is numbers. The great thing about social media is that it is free, irrespective of the number of followers (or prospects) you have. So don't accept a few hundred subscribers – aim for thousands, and ideally tens of thousands, and keep drip-feeding these valuable local prospects with useful stuff, as you never know whose "turn" it will be next.

But don't overdo it. Some agents who recognise the value in providing relevant newsworthy content send out email newsletters (of which I'm a huge fan) that are so long and content-laden that they devalue themselves and end up in the deleted folder before even being read. The key is to consistently provide just one or two snappy and engaging topics on a regular basis.

How do I capture the numbers I need?
The reason why so few people follow most Tweeting agents should by now have become obvious. Rubbish content! Nevertheless it is an apparently huge step to move your subscriber database from 150 "real punters" to 10,000. But there are many ways of doing so. For example, from a marketing perspective, your current database is not simply the 237 active buyers and sellers you currently have registered, but everyone who has ever registered with you in the past. Could this be say 5,000 people or more? The very fact that they have previously engaged you in communication confirms you already have some form of relationship with them. Yet most agents just let them go. Madness – especially when these prospects probably still have a strong connection with your area and may well live round the corner from your office.

Another way of capturing prospects is by offering free local property market reviews, undertaking street surveys, running competitions, etc as well as adding some form of viral content to your Tweets or Emails such as a humourous videoclip or an interesting local photograph. There are also some really cool on-line things you can do, such as asking which of two featured properties you have just listed in the recipient's area will sell first, a or b? This online poll then keeps a running total of local opinion and can report back to each respondent with how you are getting on! Local engagement!

These approaches, regularly delivered, certainly tick the boxes in terms of the marketing advice suggested by Prof. Robert Cialdini in his book "The Psychology of Persuasion". These are

Liking - they have to like what you are saying and what you stand for.

Similarity - people prefer to deal with people who are similar to them and can connect on their level.

Commitment - you believe in what you do.

Consistency - your advice is regular and reliable.

Authority - you clearly know what you are talking about.

Social Proof - the more people who like/know/use you, the more likely it is that others will do the same.

Reciprocity -only by giving generously do you earn the right to receive in return.

Such prospect marketing also fits with Hedi Bernstein's advice in her book "The Uninvited Canvasser" (now out of print) which suggests that the best prospect canvassers "Give something of value, ask for nothing in return, and leave before they expect you to". Most people are not currently moving, so we need to start positively influencing them before their time of need so that you are the "professionally attractive" agent who is front of mind when their time comes. You views will also feature in their conversations with others.

Whilst the concept of Twitter is no longer new, the opportunity to explore and harness the profitable benefits it can provide are still wide open to those who are keen to drive their estate agency to new levels of influence and profitability. This is not about Social Media – it's about Reputation Management!

As it happens - I have been working with some of the top Social Media experts in the business and have developed a DIY Marketing service for estate and letting agents that is a really cool extension to my popular Weekly Editorial Programme. This allows you to do all the stuff mentioned above and a whole load more - I'll even write your content for you and help you post it on the Twitter, Facebook, LinkedIn etc so you can really start to "Prospect, Engage and Convert" which happens to be the strapline of this latest innovation in agency marketing. Why not check it out at www.intellagent.co.uk now - before your competitors do!
I hope you have enjoyed reading this RAT (Rawlings Agency Tip) and that it helps your estate agency become more effective. If you'd like to receive future RATs, usually two or three times a month, then do subscribe, free of charge, to the service by clicking the RAT at the top of this page. Alternatively, should you have any estate agency training or estate agency marketing requirements, either for sales or lettings, then please feel free to contact me personally on the number/email link above.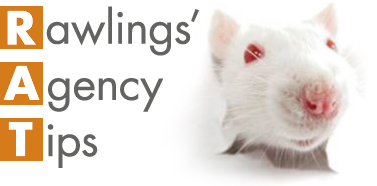 Sign up to the RAT and receive the latest straight to your inbox!