Preparing the Way - Pre-Closing Techniques (Part 1)
RAT 101 (Rawlings Agency Tips)
This week's RAT looks at the importance of "pre-closing". In other words, preparing the way for your prospective vendor to instruct you. So often an agent will feel the meeting went well only to find a couple of days later that the vendor gave the instruction to another agent. Damn! Why is this? I suggest that it is usually because the agent did not "help" the vendor reach a positive decision. Choosing an agent can appear to be a massive decision so it's easier not to make a decision at all – until they meet an agent who nudges them along. So nudge them. They won't mind as long as you approach it appropriately. There's a bit of psychology involved - here's a couple of examples:
The first helps the vendor overcome the apparent enormity of the contract, which is an easy route out for them with "We'll have a look over the agreement and come back to you". So after they have shown you around – when you focus on them and their situation, you then suggest that you look round again so you can take detailed notes (not that your sales particulars should be especially detailed). At this stage, you suggest that they take a look through the contract whilst you go round the house. When you return 20 minutes later you can say "is everything ok with our agreement?" They will probably say yes or wish to discuss it further – either way you are one step closer to making it easier for them to make a decision. (Of course, if they don't like you then you're stuffed anyway!)
Secondly, you could use what I call a "silent gaze closing question". This can be incredibly powerful and relies on the psychological awkwardness of silence. When you feel the time is right, look them straight in the eye and ask "Would you be comfortable with me as your sole agent?" Then shut up, totally shut up. For several seconds if need be. On the basis that they are unlikely to have any good reason why they should not give you the instruction, they will feel compelled to break the silence, probably with the positive response you are looking for. This is also a gentle enough question to broach before fees are even discussed and makes it slightly uncomfortable for them subsequently to back-track.
I have a few more trial closing techniques up my sleeve – but that's for another RAT.
In the meantime you probably simply want more vendors to approach you in the first place. That's called marketing. I'd love to help you with yours as I have loads of happy agents using my Editorial Publicity Programme which, when combined with IntellAGENT's email marketing and amazing 3D social media distribution will take you to unbelievable levels of local engagement. Please ask for a quote and some samples today.
I hope you have enjoyed reading this RAT (Rawlings Agency Tip) and that it helps your estate agency become more effective. If you'd like to receive future RATs, usually two or three times a month, then do subscribe, free of charge, to the service by clicking the RAT at the top of this page. Alternatively, should you have any estate agency training or estate agency marketing requirements, either for sales or lettings, then please feel free to contact me personally on the number/email link above.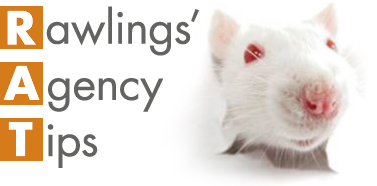 Sign up to the RAT and receive the latest straight to your inbox!