Critical Non-Essentials
It really is the small things that make the difference.
The listing presentation. It's your one opportunity to impress the seller.
We all know how weak or untrained agents use high valuations and/or low fees to swing an instruction their way, and, in the rising market we have been experiencing, the property may well sell readily, in spite of the agent. But this method is unreliable, short-lived and irresponsible verging on negligent, as, sooner or later, the high valuation will prevent a realistic sale and the low fee will stand in the way of great service delivery, and profit.
So you decide you will not be party to this. You provide sensible valuations and charge the right commission for your excellent service. The listing, or valuation, visit is your short but precious opportunity in which to demonstrate to the seller that your investment in innovation, technology, training and marketing should make you their obvious sole agency choice, and so you spend much of the time during the meeting selling your "product" to the seller.
You tell the client about your sophisticated website, your interactive "For Sale" boards, your 3D-floorplans, your SMS text messaging, your on-line progress tracking system and real-time conveyancing service, your multimedia window display, your extended opening hours, etc. You hope that these things will be enough to convince the seller that no other agent is as well-equipped as you to sell their property.
And then you don't get the business! They still decide to list their house with the agent who gave a higher valuation and charged a lower fee!
The problem is that it is easy to miss the point and resort to pandering to what we think the client wants to hear. The client even thinks that all they are interested in is your valuation and commission. But I believe they actually have other, latent, requirements, and the skilful agent who pre-empts these will win the business, irrespective of value or fee.
There are four primary objectives that a typical vendor needs to satisfy. First, they need to sell. Second they need to do so within a reasonable timescale. Third, the sale needs to be financially viable and fourth, the whole process needs to be conducted with minimum hassle and the lowest stress possible.
The objective that will be remembered and talked about long after the sale has happened will not the first three tangibles. It will be the fourth – the latent one. The hassle/stress factor that they never realised would have such a bearing on their experience of your service. Our role in the seller's move has a far greater bearing on this critical fourth objective than it has on the first three. The market determines the eventual sale, the price, and the timing to a greater extent than the agent. But we're in charge of the hassle!
The average seller is so focussed on the sale, the price and the fee (because we have made an issue out of these) that they can often overlook the potential stress that can be caused by employing an agent who cares more about listings than smooth, successful, completed, enjoyable sales.
As the hassle element is so important, it is crucial that we remind the seller that our involvement in their sale will not only find them a buyer (that's the easy bit), but find the right buyer, and that they will receive superb support along the way, resulting in a desirable conclusion.
Sellers are naturally more excited about the property they are moving to than the one they are moving from. Yet how many agents involve themselves only in the sale as opposed to the entire move? If the seller is to choose you, then they need to feel comfortable that you are on their side. They may not know it blatantly, but, in a sea of mediocre agents all clamouring for their business, the seller craves comfort.
So how do we deliver comfort, and the piece of mind that the seller has indeed chosen the right agent? We do it by focusing not on the service components we provide, such as window display, website, ads, boards, etc.. These are taken as read. They are not even real service elements – they are just the tools of our trade that enable us to do our job! If we make these out to be our strengths, then vendors will use them to justify a lower fee as they can be easily compared with other agents' offerings.
Smart agents can however justify a higher fee, not by what they do, but by who they are. It is who you are that really counts! And this is demonstrated by those things that might appear less important – the non-essentials that are, from your point of view, critical, and make up your "professional style".
Critical Non-Essentials is a term coined by an innovative Australian dentist named Dr Paddy Lund*, who has transformed his business into one where he only deals with clients he likes, who pay vast fees for his services, are delighted to do so. His phone number is ex-directory, as all his business is referred. He has done this not by focusing on the essentials such as pain relief, quality of work, etc – these are expected, but by working on little things that make a big difference to the experience – such as a private waiting room with music and fresh coffee, TV in the ceiling above the dental chair, etc..
There are loads of CNE's we can use in agency. The first one I ever noticed was when I was a trainee estate agent when my boss, John Wilcox, simply picked up the milk from the doorstep and brought it into the house with him as he entered. Other agents might make sure they have a colouring pad at the ready to give any children on the instruction, or are prepared to do a bit of homework on helping the seller find their next home - even if it is out of their area.

Smart agents work hard at empathy. Seeing the world through the eyes of the client. Sharing their hopes, needs and preferences. Combining a relaxed and professional attitude to generate comfort. Not essential – just critical!
* Paddi Lund is speaking in the UK this October 2009. I highly recommend that you find a way of attending. Have a look at his website here.
I hope you have enjoyed reading this RAT (Rawlings Agency Tip) and that it helps your estate agency become more effective. If you'd like to receive future RATs, usually two or three times a month, then do subscribe, free of charge, to the service by clicking the RAT at the top of this page. Alternatively, should you have any estate agency training or estate agency marketing requirements, either for sales or lettings, then please feel free to contact me personally on the number/email link above.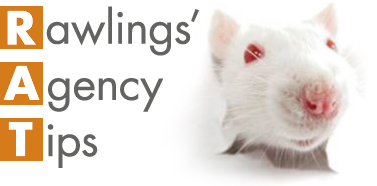 Sign up to the RAT and receive the latest straight to your inbox!