The Advertising Trap
Using a deliberate strategy for advertising success.
…don't let your clients call the shots!
I would like to express my thanks to the numerous delegates who attended any of my "Raising Fees Instantly" seminars recently who have supplied me with examples of their successes following the seminar. I have been overwhelmed with good news, which is extremely gratifying.
Anyone who attended these seminars knows that I have strong views about how agents use their advertising pages in the local press, and I am regularly asked questions about how many properties to advertise per page and the amount of self-promotion that should be included.
As we move towards a cooler market the issue becomes more acute. A slower sales cycle leads to increased stock. On one hand this provides far-sighted agents with tremendous opportunity to increase profits and market share in various ways. You will have greater control over asking prices, easier price reductions, increased fee percentages, and the ability to sell to a higher proportion of your buyers.
Conversely, an increase in stock is accompanied by a rise in the number of clients who expect you to advertise their property every week. This can be extremely costly and smart agents will look at the issue strategically and encourage their clients to do the same.
But why advertise at all? Is it to sell a particular property directly from the ad? Is it to attract buyers generally? Is it to keep the vendor happy? Is it to showcase your style? Is it to demonstrate your clout in the market? Is it to attract new listings? Most agents usually have a firm view on which of the above they believe are the most important to them.
However, let's make one thing clear – the client does not employ you to advertise their property. They employ you to sell it. Advertising, like a "For Sale" board, is just one of the tools you use in order for you to do your job effectively. This is not the client's call – it's yours! It's your ad-spend and it's your marketing strategy.
An agent who guarantees to advertise a client's property every week as part of their service is actually doing their client a disservice, as the property seriously risks over-exposure. An over-exposed property will often go stale on the market and end up selling for less than it could have.
Except in the most bullish of markets, most stock does do not sell directly from the ad, but from a buyer who was attracted to the agency through an ad, possibly by another property. It therefore follows that we should shift our focus onto putting most of our advertising effort into the most appealing properties. Those that are likely to attract the most buyer enquiries. Particularly as buyers become scarcer, your ads need to be more attractive than those of your competitors.
Remember, a buyer only buys one property – the best one for them. Yet agents continually advertise dozens of average ones. Whilst many buyers will of course end up buying an average property, they are probably initially attracted by the better ones. Many of my most successful clients simply advertise between two and eight properties per page. They get a great response and sell far more stock than those advertised.
Of course, you have to manage your clients' expectations when adopting this strategy, and not allow them to bully you into the advertising unnecessarily. The easiest way to do this is to tell them how the strategy works, ie: impressive ads attract buyers to your agency, and your well-trained staff then facilitate the sale of other houses from these enquiries. Of course you will be advertising their house – but not every week. But when you do, the ad will be excellent; and each time it is advertised it will bear a different photograph to keep it fresh. "The sale of your house, Mr Seller, is not linked to the number of times it is advertised. The sale is most likely to come from one of our registered buyers." And "Be assured Mr Seller that we will be regularly advertising properties that will attract the right buyer for your house". Then make sure that you advertise a variety of well-priced properties that fits your current stock availability.
There is an even more positive side to this approach in addition to regulating your ad-spend. In any business it pays to make clients feel important. In agency, larger ads, even a whole half page, make a client feel very special, and this is great for attracting new listings – "If that's how they'll advertise my house I want to speak to them!" What better way to manage perceptions about the quality of your service leading of course to an immediate increase in your fee percentage?
Whilst larger ads are striking and more likely to be read, don't fall into the trap of using the extra space to provide flowery word padding. The purpose is to make the phone ring. So say less, and let white space work for you. All the buyer needs to know at this stage is what does it look like (good photo), where is it, what accommodation is there (bullet points), and how much is it? In most cases everything else (GFCH, Dbl Glz, WHB, DDSU, Fttd Cbds, etc) is superfluous. And at this stage in the process, who cares who made the boiler and how many sockets there are?
So impact counts. In the same way, agents wishing to create impact for their business should take blocks of advertising rather than spreading their ads out in single pages in various parts of the newspaper.
From a business development perspective, if the impact you make on your page is to be meaningful to the public, readers also need to be exposed to tangible reasons to do business with you rather than a competitor. A repeated list of your services becomes mundane. Rather pick off each topic, eg coded "For Sale" boards, and write an informative article about why you use them and why they are so important from a vendor's perspective.
And as ever, if you need any help writing articles for your pages…you know who to call!
I hope you have enjoyed reading this RAT (Rawlings Agency Tip) and that it helps your estate agency become more effective. If you'd like to receive future RATs, usually two or three times a month, then do subscribe, free of charge, to the service by clicking the RAT at the top of this page. Alternatively, should you have any estate agency training or estate agency marketing requirements, either for sales or lettings, then please feel free to contact me personally on the number/email link above.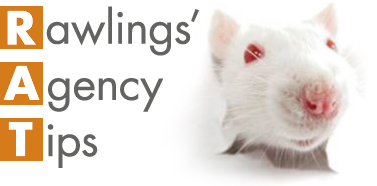 Sign up to the RAT and receive the latest straight to your inbox!