Training Beyond Knowledge
Is your training inspirational or boring?
During a recent dinner party, someone sitting next to my wife asked her what I do for a living. She could have said that I am an estate agency management and marketing consultant, agency trainer or publicist, but, bless her, she chose the most instantly recognisable and impressive label. She introduced me as a motivational speaker. I suppose this carries some sort of kudos, but I must say I rather cringed when I heard the description. I always thought that listening to a motivational speaker was fine for the first couple of days, but then attendees just tend to slip back into their old ways as the buzz of an inspiration presentation wears off!
Surely, instilled deep-seated training that has long-term transformational benefits carries far more commercial weight than some shot-in-the-arm speech that leaves you on a high for a while? Well yes and no. Over time, I have changed my mind on this point.
Over the past couple of years I have been asked to speak at numerous company conferences, annual meetings, awards, conventions etc.. I always aim to deliver refreshing, unusual and often radical material, which I hope will challenge agents to look outside their regular, often somewhat parochial, box. I go in, do the job, and leave.
However, I used to think that unless the issues and methods raised were drummed home with follow-up sessions, role-play, monitoring and assessment then all that would be left would be some sort of motivational fall-out. No substance, just some memory of "a great session – can't remember what it was about, but we enjoyed it". However, I have been very pleased to note the feedback that has emanated, often months later from the organisers of such conferences who tell me of the transformation some of the presentations have made to their business.
Invariably, the transformation has been instigated by delegates who have picked up on just one or two good ideas and have championed these upline and throughout the company. Those agencies who openly encourage their employees to take ownership of new ideas tend to be the winners – those who freely harness concepts that have been proven elsewhere but never locally.
I believe training has changed. People no longer want to sit in a room being force-feed the same old techniques. That's the problem with in-house training. It simply isn't the refreshing inspirational boost that many agents need.
This was brought home a few weeks ago. I had a few places left on one of my public "Listing in a Changing Market" seminars and I contacted a medium size independent estate agency to ask if they would be interested in sending some delegates along. The response was "no thank you; we have had our own in-house trainer for 12 years so we don't need any outside training". Looking at their office window, their website, their ads and their property details, they most certainly do need outside training as their in-house trainer is already 12 years out of date. It's the old case of one year's experience plus eleven years practice! Retrograde or what?!
It's just that you don't know what you don't know, and I feel exasperated when I come across these attitudes in agency, as there is so much out there, so much innovation and amazingly effective ways of creating real distinction in the business that drive up instruction levels, fee percentages and market share. If agencies choose to be so blinkered and do what they have always done, then they will not only remain where they have always been, but they will inevitably start to lose market share.
The customer has moved on; moved forward. They have not only been influenced by the progression of other industries, but have been inspired, indeed radically changed by them. Be it airlines, banking, retail, leisure, travel, fashion, media, or automotive, each of these industry sectors is radically different to how it was ten years ago. But agency has changed very little.
Sure, some things might appear to have changed. Colour photos, floorplans, internet listings, virtual tours etc., but these are simply minor tools of the agents' profession. The fundamentals of most agencies remain the same, and often because the person training the agents of today is still rooted in the past. I don't blame them. Their job is to share their knowledge. But that's the problem - no one ever asked them to break out of their knowledge and do inspirational things.
But it's not all gloom. In fact there is real light at the end of the tunnel. Because those agents who are taking giant leaps in local market share are those who are indeed breaking the mould. Because people really do want change. They want innovation. They want difference when all around them many agencies are still wallowing in mediocrity. The customer is addicted to change. Why else would people always want the latest mobile phone, the newest flat-screen TV, a different pair of shoes, a new car, computer upgrades, even, fortunately for us, a new home?!
They used to say that necessity is the mother of invention. I believe that this has now reversed and, in terms of impressing your customers, invention is now critical to your business if you are going to succeed over your competitors. Many agents have run out of unique selling points and have gone running into the only weapons they have left – irresponsible valuations and fee negotiation (don't get me on that subject again)!
I would therefore urge you to find out what you don't yet know by investing some time and money in training yourself and your staff in some new agency techniques. Initiatives that will help you overcome the issues of the day; that will create distinction in your agency; that will attract and impress your prospects so they regard you as their obvious agent of choice; that will demonstrate your value; that will help you retain your staff longer; that will transform your business, making you more effective, efficient and profitable.
I hope you have enjoyed reading this RAT (Rawlings Agency Tip) and that it helps your estate agency become more effective. If you'd like to receive future RATs, usually two or three times a month, then do subscribe, free of charge, to the service by clicking the RAT at the top of this page. Alternatively, should you have any estate agency training or estate agency marketing requirements, either for sales or lettings, then please feel free to contact me personally on the number/email link above.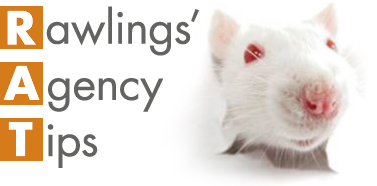 Sign up to the RAT and receive the latest straight to your inbox!