Support Material Counts!
The critical importance of an influential first impression
Let's face it, when you go on an instruction, the chances are that you are not the only agent the vendor has invited in. You are probably one of at least three, and that's fair enough. The vendor understandably needs to make a comparative buying decision between agents. But is this what actually happens?
In many instances the selection criteria are not based on the attributes of the agent, because the agent has not communicated any! The agent has in fact done very little to influence the vendor in order to position themselves as the obvious agent of choice. So they fall into the old trap of desperately trying to make up for lost ground by flattering the vendor with an inflated asking price, which could be suicidal in the current market.
I see too many agents gloating over how much stock they currently have! This appears to be manna from heaven following years of famine, yet if they can't sell the property because it is too expensive, then they will quickly undermine any reputation their past successes might have established.
So we need to find other ways of securing high quality, saleable stock, without relying on a high valuation, or, of course, a low fee (which doesn't work anyway – please call me if you want a scrap behind the bike sheds on this issue!)
Many agents, and especially the corporates, produce wonderful glossy marketing material designed to be left with the vendor after the meeting. The sad reality is that these usually remains unread! Why? Because, frankly, it is of little interest to the vendor because it is simply a bumptious text-heavy tome which tells vendors how amazing you are. Some don't even do this - they simply list everything that you do, such as your internet presence, "we'll put a board up", colour particulars (wow), free valuations, or no-sale, no fee (by the way congratulations to The Lee, Shaw partnership in the Midlands who always charge extra for advertising!)
The content of most of these brochures focus on your company, its history and successes, much of which could relate to most estate agencies. But surely, the vendor is far more interested in their own future rather than your past?! Such material should therefore be designed to connect with them on many levels and address the needs, concerns and hopes that they never actually related to you when they booked the appointment.
You know what their needs, concerns and hope are. They are pretty common to most sellers. In fact, there are many which the seller had not even considered themselves, yet few agents actually harness the opportunity of seeking to address them. The material you present to a client should not just tell the client what you do. You sell houses – that's all they need to know about what you actually do! How you do it is your affair. If you really want to engage with your prospects, then you need to get personal and create a desire in them to really want to do business with you. As my clients already know, it's not what you do that counts…it's who you are! Just like the relationship with a spouse!
So your marketing should be an expression of your style and personality. It should simply hint at the type of service that they will enjoy and give an indication of your approach. Don't shoot all your ammo all at once. Become exclusive!
Other industries can be pretty good at this type of marketing but estate agents are typically way behind. Take property developers for example. Their adverts for their apartments don't necessarily feature accurate representations of the rooms in the apartment, but are likely to focus on a glamorous couple enjoying a laugh together with a glass of wine whilst cooking designer food in the stylised kitchen. The developers know they are selling aspirational lifestyles, not just flats. We could learn something here about how we market property.
However, even more important is how we market ourselves. I learnt this lesson very early in my career when my branch won the "What House? Magazine Estate Agency of the Year Award". The publicity and instant kudos was amazing, and had a major impact on our 40-branch network (Winkworth), all of whom were able to milk the added credibility the award suggested. I discovered that it was far more profitable to market our agency than it was to market the properties we were selling!
In terms of presenting the right information, to the right people, at the right time, nothing is more powerful than exceptional support material presented before you even walk through the door. We all know the power of a good first impression. Too many agents make an average first impression and they assume they will be judged on the contents of their "valuation" letter. Too late - far too late! The client probably made their choice as to who was their preferred agent based on their first impression - just as a house buyer has probably bought the house emotionally (where it counts) within seconds of walking through the door. It doesn't matter what the vendor says about the new security system or the low voltage lighting. The choice has already been made.
So it is with agents. The latest sea-change in agency thinking is the use of a sophisticated "pre-instruction pack". A pack that adds tremendous wow-factor to any agency who uses it. Material that will not be binned!
Good pre-instruction material takes the onus off the agent having to "sell" the company's services because they are already pre-sold! So the agent can relax and do what they do best – sell themselves and focus on the relationship. It's all about relationships anyway – not transactions! Transactions follow a good relationship, not vice versa! A good relationship generates trust and confidence, which, once secured, means that the client is more likely to accept your advice when it comes to asking price, and less likely to query your fee!
I hope you have enjoyed reading this RAT (Rawlings Agency Tip) and that it helps your estate agency become more effective. If you'd like to receive future RATs, usually two or three times a month, then do subscribe, free of charge, to the service by clicking the RAT at the top of this page. Alternatively, should you have any estate agency training or estate agency marketing requirements, either for sales or lettings, then please feel free to contact me personally on the number/email link above.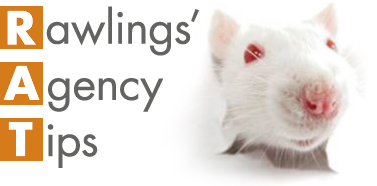 Sign up to the RAT and receive the latest straight to your inbox!