Can You Measure Marketing in Estate Agency?
Using business intuition to assess the value of marketing initiatives
My holiday in France earlier this year was about as relaxing as they come – balmy evenings, eating al fresco, walking, biking, swimming, etc.. The house we were renting was really well appointed, and I was particularly impressed by the huge selection of books.
The challenge was to choose a book which could be read within a week without ignoring my responsibilities as a father of four children, each of whom naturally wanted a piece of me most of the time. I failed the challenge and chose two books. One was a fat book with no pictures, and the other a thin book with lots of pictures! I'd finished with the thin book within about 20 minutes – but sadly failed to finish the fat book and I had to leave it there when we left.
However, what struck me about both books was their very clear business message, despite their obvious differences. Let me explain. The thin book was a collection of those 3D stereograph pictures which, when you relax and de-focus your eyes, reveals another image which is very striking and completely unrelated to the main picture, but which simply cannot be seen when your eyes are focused normally. You might be looking at picture of a complex jungle scene and you suddenly become aware of a striking image of a jet fighter (my wife just can't work them out!).
The thicker book was "Jack", which is the autobiography of Jack Welch, the former CEO of the massive General Electric group. GE was at that time the "world's most admired company"(Fortune Magazine-Feb 2005). Assuming the second half of the book is as absorbing as the first half, then this is a book I can highly recommend. Of course, if you are a principal of a one-branch estate agency firm in a typical middle-England town, you would be forgiven for wondering what learning can be taken from Jack. After all, running a vast empire employing some 300,000 people in 160 countries, and with a turnover of 152 billion US Dollars (yes, billion) there can surely be few comparisons to be drawn!
Yet the more I read the account of this very personable man, the more I was reminded that it is values that drive a business, not products or services. And this applies whatever the size of business. After all, in estate agency, most firms offer more or less the same sort of service – list your house with any estate agent and they will probably sell it, probably within a reasonable timescale, and probably at a not-unreasonable price.
So if people are going to choose to appoint your agency as opposed to one of your competitors, then it is not so much what you do that counts, but who you are. And who you are is primarily determined by your ideals, or core values.
Unlike many other key business drivers, your values are not easily measured. Whilst it is always important to have a good handle your key numbers, how can you determine what effect your values are having on your business?
Jack Welch's response to this question is clear. He says, "There are rarely black-or-white answers. More often than not, business is smell, feel, and touch as much as, or more than, numbers. If we wait for the perfect answer, the world will pass us by."
And how right he is. I know many agents who, whilst thinking about this, considering that, weighing up the other, have indeed allowed the world to pass them by, simply because they could not specifically measure the numerical contribution to their business a certain initiative would make.
Some agency investments are easy to measure. You hire a negotiator and can measure the value they deliver into the business. You can subscribe to a property portal and see exactly how many new enquiries are generated. You can measure the value of Pre-Instruction marketing materials when you see the difference they make to your appraisal/instruction ratio, instruction/sale ratio and fee percentage increase.
But how do you measure the value of, for example, a telephone? We know they are indispensable, but impossible to account for. If we made our business decisions based on specific projected return on investment of every aspect of our business, we would not even get off the ground!
When people ask me, for example, how can they measure the return of my Editorial Content Programme, I have to say "you can't – so you'll have to rely on your business intuition (or cheat by talking to other clients!)." Interesting that the key players in any industry, be it Jack Welch or Richard Branson, rely hugely on their business intuition. That is what has made them successful. They are not accountants – they are visionaries. And vision drives business, not numbers! My most successful clients tend to be those who break the mould with their vision – and the numbers tend to follow! Indeed, many of them have had a record year this year.
General Electric's current strap-line is "Imagination at Work", which is as much a reflection on GE's staff ethos as it is on their products. The four components of their vision are imagine, solve, build and lead. As agents, do you imagine what the future could look like from your clients' perspective? Imagination is a sense of possibility that allows for a freedom beyond mere invention. Imagination dares to be something greater.
Do you provide solutions to problems the client never even realised they had? Do you build your business on the back of your latent intuition? Does your agency play a part in leading our industry forward?
Noble aims indeed! So back to the thin book – the stereograms. The point is that sometimes you have you have to look very hard at your business. Some people just don't see it. They even try to look too hard. But when you relax, and look beyond the expected, then new and exciting dimensions become not only possible, but they turn out to be a whole new motivation for the future.
I hope you have enjoyed reading this RAT (Rawlings Agency Tip) and that it helps your estate agency become more effective. If you'd like to receive future RATs, usually two or three times a month, then do subscribe, free of charge, to the service by clicking the RAT at the top of this page. Alternatively, should you have any estate agency training or estate agency marketing requirements, either for sales or lettings, then please feel free to contact me personally on the number/email link above.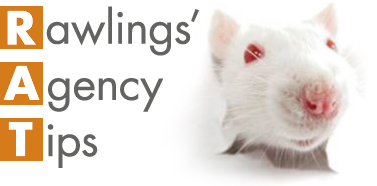 Sign up to the RAT and receive the latest straight to your inbox!