Portals - A False Sense of Opportunity?
Why do agents rely so heavily on portals when their own website could be top of a Google search?
Estate agency was, and still is to a great extent, a pure broking operation. Until the 1980s agents used to rely heavily on the human element of matching buyer to property, usually via some sort of card indexing system.
Computers seemed to be the perfect answer to the inefficiencies of the card system, front and back office systems such as Vebra, Dezrez, and Aspasia were introduced and honed to the extent that some agents thought they could ignore the human element altogether! This is a bit like a film-maker taking a back seat, thinking his camera will do the job for him!
Overall, few would argue that computers have fundamentally revolutionised the way in which our industry works, although I still come across agents who have not yet introduced "those computer thingies" into their business!
One should of course ask the question, "How can such efficiency increase our agency's market share?" Hopefully by putting together sales that humans might have otherwise missed - until such time as your competitors acquire a similar system of course.
Then came the internet, bringing with it a host of hitherto untapped advantages. "We can now offer your property to six billion potential buyers across 192 countries 24 hours a day" was an unprecedented and impressive claim for those agents who had a website! But the reality is actually "So what? It doesn't mean they will all be banging on your door". Promoting your wares to anyone other than your specific target market in this way is a pointless exercise. But nevertheless, if your agency does not have a website, you are still effectively in what has rapidly become the dark ages (yes, I know of several agencies who do not yet have a website!)
The reason the internet as a property search vehicle took off so rapidly in the UK – long before the USA (many agents in the US do not have a website), is because we do not have a proper Multi-Listing System (MLS) where every agent has access to every property on the market. Every time a buyer approaches an agent it is hit-and-miss as to whether that agent will have a suitable property on offer. The internet began to change this, as buyers can now simply shop around agents on-line until they find a property of interest.
Enter the property portals. This made it even easier for buyers as it effectively condensed the number of sites, or agents, people had to visit. This is the nearest thing we have had to a fully comprehensive list of everything on the market. This is great for buyers, and we know that portals are also a great source of buyers. However, as increasing numbers of estate agents subscribe to the major portals, aren't agents beginning to shoot themselves in the foot here?
If buyers now have access to most agents' properties, each individual agency is then no better off than they were before the internet. In fact, pre-portal, an agency could at least wield more market clout by simply buying up loads of newspaper advertising space if they wanted. The portals have unwittingly lulled us into a false sense of opportunity, and agents risk a rapid loss of distinction locally, especially as they reduce their newspaper advertising spend to compound the problem.
Just as a good website allows the smaller agency to punch well above its weight, the portals have levelled most agents to the same common denominator.
So smart agents are looking ahead to the next phase – the initiative that will once again position them ahead of their competitors, both on-line and off.
According to a recent Propertyfinder survey, more than half of all vendors believe that on-line advertising is more important than press advertising (although don't be misled into believing that you should withdraw from newspaper advertising – just revisit your content).
So the vendor is likely to be particularly keen to instruct the agent who clearly has a great web presence. However, when you want to demonstrate how effective that presence is, you fall into the portal trap. The most effective way to demonstrate your mastery of your business and your area would be to tap in a likely buyer search string eg "houses in Cheltenham" and your agency's website would be right there at the top of a Google search.
The reality is that most searches such as this will bring up not agents, but portals. Try it! You get Rightmove, Fish4Homes, Propertyfinder, Findaproperty and Email4Property. This is fine if you are a buyer, but ironically it does very little for the component agents who actually subscribe to the portals in terms of impressing vendors – the key driver for successful estate agency.
However, I have a solution. Inspired by one of my clients, Tony Lynch of Lynch and Company in Woking, and working closely with a specialist web optimisation company which is reassuringly close to Google itself, we have developed a powerful service for estate agents that rockets you straight to the top of a Google search for the most relevant search term. Part of the idea is the use of the search term "houses in Woking" as an allied URL, eg www.HousesInWoking.com. Imagine the impact of incorporating this into your regular advertising! If you are selling a house in Woking, why would anyone not approach the only agent to control www.HousesInWoking.com? Of course, a guaranteed top Google ranking also requires some specialist web optimisation magic, but please feel free to call me if you would like some pointers on this.
One client of mine receives one and a half times more confirmed leads directly from his own website than he receives from Rightmove as a result of clever website positioning. And the off-line marketing opportunities are even more exciting! Now that's smart!
If you are going to keep ahead of your competitors, the key is to recognise when you are starting to look the same as them again and do something proactive about it!
I hope you have enjoyed reading this RAT (Rawlings Agency Tip) and that it helps your estate agency become more effective. If you'd like to receive future RATs, usually two or three times a month, then do subscribe, free of charge, to the service by clicking the RAT at the top of this page. Alternatively, should you have any estate agency training or estate agency marketing requirements, either for sales or lettings, then please feel free to contact me personally on the number/email link above.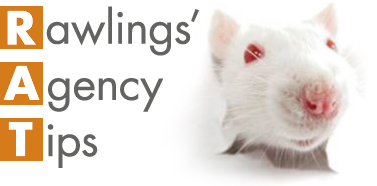 Sign up to the RAT and receive the latest straight to your inbox!