Beyond the Basics
Creative angles on estate agency training in a tougher market
Agents can prosper in the current market, but this requires a major mindshift if you are to harness some unexpected solutions.
Even though many agents experienced the "crash" of the early nineties, most are still in shock as to the devastating effect the current market is having on their business. A "crash" usually refers to a massive oversupply of stock in relation to demand, causing prices to fall, as it does with any product or service.
However, the current market is not like this. Whilst stock levels are higher than they were, this is not due to panicking sellers piling onto the market, but more the result of properties selling more slowly, thereby accumulating stock. And this presents real threats and opportunities that must be addressed quickly. However, many estate agents are only prepared to go part way towards implementing solutions that are needed immediately.
One of the reasons for this reluctance, despite the best intentions of agency principals, is that agents find themselves in a cottage industry, in a local market in a parochial setting. This is not a good environment for change! Yet change is the one thing that is desperately needed. And this is a major training issue. Even companies with internal trainers seem to be ingrained with the same "solutions" for the same problems. Today's problems are not the same -so how can the solutions be?
Additionally, training does not usually fully address the answer because it seldom secures comprehensive buy-in, understanding and acceptance from delegates. If agents don't appreciate this market's distinct differences, and the commercial effect of these on their business, then money spent on training is likely to be wasted.
For example, most people would agree that market share is critical. Yet most agents believe this to be market share of stock, as reflected in their For Sale boards. But when revenues are under pressure and bills need paying this is the wrong measure of market share to be counting. Yet too many agents still pride themselves on their ability to list, many are still overvaluing (even valuing at par is overvaluing in this market), and many are still cutting fees, which is utter lunacy and a sign of a weak agent who does not have the skills to defend him/herself.
Effective estate agency training is no longer about imparting the basics. This is not the market for tolerating agents who haven't yet grasped the basics! When others are cutting back on training because they believe that this saving will somehow help them sell more property, the great agents are maintaining or even increasing their training spend in order to help their agents look outside their usual box. This is so much more effective when delivered by a third party, who can substantiate and support the ideas the principal has been flogging for weeks, but to deaf ears it seemed.
Radical estate agency training today is at its most effective when it involves an agency's top people. It is not about improving weak employees - they should go! An agency will be far more profitable when its top performers are taught where and how they should be adapting their skills to take account of the market.
Such training would include an understanding of the science of agency, the maths of the numbers involved, the psychology of today's buyer and seller, the economics of a competitive environment, and of course, some superb initiatives for selecting and securing the right listing at the right price and fee, and how to gain buyer loyalty from the right buyers.
It is also about commerciality. If you are shedding your weakest staff, then you have to keep, reinvigorate and support your finest staff. One of the greatest benefits of providing inspirational, outsourced training for your key people is not only a rapid and relevant improvement in their results, but also the loyalty you receive when they see that you are continuing to invest in them during the tougher times. Whilst your competitors are giving messages of desperation, panic and redundancies round the corner, you can still be seen to be the best employer around, calmly and confidently steering your team through troubled waters. They are on the right ship and they respect the person at the helm.
So hold back on training at your peril, but do be prepared to let an external expert analyze your business and identify its strengths, weaknesses, opportunities and threats in the context of the current market. When selecting a trainer, make sure that they will look deeply at the components of your agency, your key ratios and performance indicators, your history and aspirations, and the characters involved. Certainly keep an open mind and embrace innovation of method.
We hear about the need to "go back to basics", but in the current climate those agents who really shine are those who combine the courage of their convictions with powerful new ways of delivering profitable results.
Richard Rawlings is MD of Estate agency Insight, the specialist estate agency consultancy that provides radical training, marketing and prospecting solutions for progressive estate agents. 08458381354 www.estateagencyinsight.co.uk
I hope you have enjoyed reading this RAT (Rawlings Agency Tip) and that it helps your estate agency become more effective. If you'd like to receive future RATs, usually two or three times a month, then do subscribe, free of charge, to the service by clicking the RAT at the top of this page. Alternatively, should you have any estate agency training or estate agency marketing requirements, either for sales or lettings, then please feel free to contact me personally on the number/email link above.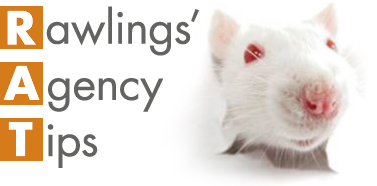 Sign up to the RAT and receive the latest straight to your inbox!