Attack or Defend?
Should estate agents tighten their belts, or launch a full scale attack on their competitors?
Should estate agents tighten their belts during these leaner times, or launch a full scale attack on their competitors? Richard Rawlings investigates.
An agent asked me recently if, after three years of successful trading, he should perhaps quit whilst he is ahead, or should he hang in there until the market improves? It is a question that may well be on many agents' lips at the moment. With sales figures down considerably should agents be taking a long hard look at their business?
Firstly, and I do not want to be unnecessarily cynical or aggressive here, but why did you ever stop taking long hard looks at your agency in the first place? This suggests a degree of complacency that is totally out of place in this, or indeed any other, market. Those agents who usually capture an increasing market share tend to be those who continually reinvent themselves. They not only respond to the hopes of their customers (who actually know very little about the possibilities in agency), but refuse to accept that they have the formula right. They realise that offering good service today is simply average. Their passion is to deliver amazing, even outrageous, service that impresses their prospects and clients into regarding them as their obvious agent of choice – whatever the fee.
Too many agents say that they give great service and that is why they have been successful. But how often do I see such agents who, whilst indeed giving great service, then fail to communicate that service effectively (called marketing). In doing so they are missing the point of giving great service in the first place. The point is to impress, inspire and influence your target audience, yet if the only people to have experienced your service is your handful of past and present buyers and sellers, then how can you expect to drive your reputation forward? There must be 100 people who have no opinion of you for every one who has.
This is where marketing comes in. If someone fails to invite you to pitch, or to instruct you, or rejects you on fees, it means one thing – you got your marketing wrong! Fee cutting is a poor substitute for good marketing. If your marketing has made you attractive enough, and your proposition compelling enough, then you will secure those instructions and price reductions you seek.
But of course, if revenues are down and Instructions are flowing in, why bother marketing at all, especially as cost saving must surely be the issue of the day?
Well as far as I am aware, no-one ever got rich by saving money. They only became successful as a result of some form of investment that generated a profit. Will cutting back on marketing drive your business forward?
Marketing in estate agency is not just about attracting sellers. It is about attracting the right sellers. The right seller is one who is motivated to move, who will accept your recommended asking price, and who will pay you far more than you are currently charging (many of my clients charge 2%-3% in predominantly 1% areas, and enjoy an excellent market share). In other words, motivated, saleable and profitable instructions. These are the bedrock for success in agency whatever the market conditions.
Some agents tell me that they simply don't need more instructions at the moment. But since when were good agents so reliant on a strong market for their success? Anyone who does so is simply exploiting a situation where not enough competition exists to threaten your business. Getting the right stock should always present a challenge – in any market. If it is not difficult to pick up instructions, then you are either overvaluing property or undercharging on fees.
Anyone can make money in agency when the market is flying, but it is the entrepreneurial agent who has the balls to attack when others are defending that tends to win the day. Indeed, many of my successful clients of today are those who actually first opened their doors during the crash of the early 1990s.
The key is to buck the trend. If your competitors are not driving their business forward and are simply struggling to survive, all the more reason for you to press ahead. The alternative is simply to join them and wallow in this "problem" market.
I understand that during the Second World War, when margarine was not available in the shops, the Echo brand of margarine continued to advertise extensively, whilst their competitors tightened their belts and pulled out of all marketing activity on the premise of "why market when you can't deliver?" Yet after the war, when margarine no longer had to be diverted to the troops overseas, Echo had secured a 100% market share!
Today's property market is not a problem market for those agents who know how to adapt to its opportunities! Some of my clients are enjoying record figures because they have a real handle on those things that are really important in agency today – selective listing, vigorous pricing, dynamic client communication, and a marketing focus that makes the other agents look like they are shrivelling away. And they probably will!
I hope you have enjoyed reading this RAT (Rawlings Agency Tip) and that it helps your estate agency become more effective. If you'd like to receive future RATs, usually two or three times a month, then do subscribe, free of charge, to the service by clicking the RAT at the top of this page. Alternatively, should you have any estate agency training or estate agency marketing requirements, either for sales or lettings, then please feel free to contact me personally on the number/email link above.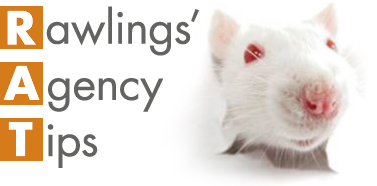 Sign up to the RAT and receive the latest straight to your inbox!