Portals v Newspapers - Another Perspective
How to modify your marketing efforts in the Internet Age
As the internet comes of age, is there still a place for the traditional property newspaper, and how should agents modify their marketing efforts to take advantage of a new opportunity that most agents miss? Richard Rawlings investigates.
The traditional estate agency ad in the local property newspaper is clearly designed to attract buyers, even though most agents tell me their purpose is to attract sellers. This is in spite of the fact that virtually none of the content of such ads has much effect on prospective sellers. It just seems to be the usual pictures of properties syndrome. If the implied message of "we sell property" is supposed to be in any way compelling, then it fails in this aim. That's what agents do! Why shout about it? It's like a restaurant advertising the fact that they sell food! Surely it is the style of food, the atmosphere and the whole dining experience that the market-wise restaurateur will promote in the hope of attracting customers.
It gets worse. Agents don't even advertise their own products. They advertise their clients' products; usually free of charge as well! Are we mad?
But there is a solution. The property portals have evolved, developed and matured over the past decade, some spectacularly, because they are just so damned good at sourcing buyers at a far lower cost per applicant than traditional advertising. Rightmove's service, for example, is so effective that over 18,500 estate agency branches use it – about 90% of the market by my guesstimate. Good for buyers, good for sellers, good for agents. That is, in terms of gaining applicants (although smart agents know how to use some of Rightmove's enhanced listing services and statistical resources to their client-gaining advantage as well).
But what of sellers – the lifeblood of any agency. No stock, no sales! By moving from traditional advertising in favour of the portals, what does this say to the seller? In reality, not much! And that's the problem. On the basis that only about 5% of the market is moving or considering a move at a given time, most homeowners are not in the least bit influenced, let alone persuaded, by your online presence – because they are not going online and seeing you.
OK, there are some people whose hobby it is to keep an eye on what's happening, but the vast majority of people have about as much interest in making the effort to go online to enter a fictitious search for property as they have in searching for holidays they have no intention of going on. We used to call them time-wasters, but fortunately they no longer waste our time thanks to the portals – just their own.
Yet there is a place for passive advertising in the local paper. According to The Newspaper Society, nearly 84% of the adult population read their local or regional newspaper (compared to 65% who read a national daily) with a distribution of over 40 million copies a week.
Once in people's hand, any homeowner with even a cursory interest in the local property market is easily tempted to skim through the property pages, when they wouldn't necessarily have a reason to go on-line. Look at it this way – you may be interested in reading about the plight of the whales in the Southern Ocean, or the latest BAFTA award winners, or the Zimbabwean economy, or Tony Blair's latest job when offered to you on the plate of a newspaper, but would you deliberately go on-line to find out about these things unprompted? Unlikely, unless you had a specific interest or reason to do so. That's why billboards also work. They make it very easy for people to see the advertiser.

So what are these "skimmers" seeing? Pictures of properties and agents' logos, colour schemes and graphics! You are either the red agent, the green agent or the blue agent.
And how does this influence your sellers to think highly of you? Well, it doesn't really. They are not interested in estate agents – they just have a passing yet vested interest in their local property market.
So why on earth are agents not modifying their newspaper ads to reflect this interest in a way that will leave a regular positive impression on their wonderfully local target audience? And I don't mean a list of services. Using the restaurant analogy again, this would be like trying to attract people by supplying a list of ingredients – 250g of ground beef, washed and peeled tomatoes, etc! Or a radio station promoting a new song by describing the musician's qualifications, but without playing a sound clip.
The issue should not be "What does the agent DO?", but rather "What is that agent LIKE?" if your marketing it is to have any bearing on how the public perceive you.
Of course, the more imaginative agents are already harnessing this opportunity whilst their competitors are still shelling out in order to keep their ill-advised promises to clients that they will advertise their property in the paper every week. The best agents I know are satisfying, indeed encouraging, the local public's thirst for interesting advertising content. They are publishing weekly articles within their advertising pages about a wide variety of property-related topics. These might include market comment, selling advice, presentation tips, value-enhancing home improvement ideas, seasonal issues, buying guide, gardening tips, HIPs advice, overcoming chain problems, etc.
Such weekly drip-feed of useful, relevant and meaningful articles certainly positions the agent as the credible voice of authority in his or her field. It demonstrates that you are not only here to showcase your stock, but also to offer valid and informative moving and property-lifestyle comment so that you become the obvious agent of choice when their time comes to move. You will have begun to earn the right to the business because you will have offered something of value to the recipient, been consistent, demonstrated mastery of your subject, stimulated desire and generated trust – the key components of an effective marketing approach.
But, I hear you say, that takes an awful lot of time, to deadline, and a shed-load of subject matter to be created; and not all estate agents feel as comfortable writing journalistic articles as they do property details. True. So if you would like to take a shortcut you might like to contact me as I have written over 200 such articles – each of around 300 words and adjusted to fit your key messages, and exclusive to just one agency per location. I also recommend that you use them on your website, as mailers and window display content.
In summary, there is a huge difference between property publicity and agency publicity- and it's not just about exposure. Good agency publicity means providing your audience with relevant material that helps them form an opinion about your agency that is more tangible and meaningful than the simple board and property advertising presence provided by your competitors. Simple really – but easily implemented and thoroughly effective!

Richard Rawlings is the founder of Estate Agency Insight, which specialises in helping estate agents create distinction in their business through innovative marketing and training techniques.
© Richard Rawlings 2008.
I hope you have enjoyed reading this RAT (Rawlings Agency Tip) and that it helps your estate agency become more effective. If you'd like to receive future RATs, usually two or three times a month, then do subscribe, free of charge, to the service by clicking the RAT at the top of this page. Alternatively, should you have any estate agency training or estate agency marketing requirements, either for sales or lettings, then please feel free to contact me personally on the number/email link above.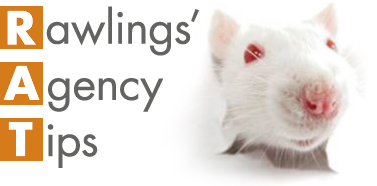 Sign up to the RAT and receive the latest straight to your inbox!