Committed Sellers - On a Plate
A powerful new way to generate saleable, profitable stock
Did you know that over 46% of all vendors of properties currently selling have previously tried and failed through another agent? (Source: Rightmove plc)
The fact that nearly half of all your competitors' clients will switch agents provides you with a huge opportunity which is yours for the taking!
These are your best prospects for several reasons – they have already decided to move; they are increasingly frustrated that their agent has not yet produced a buyer; they are more likely to consider reducing their price than ever before; and they are wondering whether they chose the right agent. As for fees – by now they just want to sell, whatever the cost!
But what are you doing to encourage these frustrated sellers to switch to you, and how do you go about attracting these saleable instructions? You could mailshot them. But so does everyone else, and it's pretty hit and miss. You could contact those vendors you didn't get first time round, but these only represent a small proportion of available stock.
So I have just introduced a potent solution, which is a service I am currently offering to just one agency per area on an exclusive basis. I will help you organise a Vendors' Advice Evening at your branch or a suitable venue nearby.
I will provide you with advert copy and a selection of pre-written letters and invitations that you send to likely prospects – and especially each of your competitors' clients, offering a friendly, free and informative advice evening to anyone who is currently selling but who is frustrated by the market or indeed by an agent who might have lost interest in their sale.
I will attend on the night to co-host the event with you and deliver a powerful presentation that is guaranteed to have vendors begging to reduce their price, and list their property with you – even at a higher fee. And as I am independent, I can give them a few home truths that you might have been uncomfortable delivering during an instruction.
My service includes advice on other aspects of the evening that will significantly enhance your reputation, along with sponsorship suggestions to help cover the cost.
If you're keen to take advantage of this excellent route to market please feel free to email me for a proposal here and we can fix a date to transform your stock.
I hope you have enjoyed reading this RAT (Rawlings Agency Tip) and that it helps your estate agency become more effective. If you'd like to receive future RATs, usually two or three times a month, then do subscribe, free of charge, to the service by clicking the RAT at the top of this page. Alternatively, should you have any estate agency training or estate agency marketing requirements, either for sales or lettings, then please feel free to contact me personally on the number/email link above.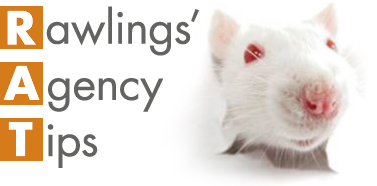 Sign up to the RAT and receive the latest straight to your inbox!