How to Be Attractive
The RAT (Rawlings Agency Tip)
We both know that you are more likely to generate business from someone who has contacted you, than from someone whom you approached unsolicited. It's all about attraction.
All too often I hear about how estate agents are trying to get something. Get instructions, get price reductions, get offers, get commission, get buyers. Yet selfishly putting the onus on the gain rather than the benefit you can deliver (from which you will directly or indirectly eventually derive income) is putting the cart before the horse.

In today's discerning and competitive world, you cannot expect to generate business until you have earned the right to do so. And this means putting the needs, hopes and aspirations of your clients and prospects before your need for gain – no matter how much you need to money! In other words, you have to be ATTRACTIVE!
Dr Dennis Burkett (a ground-breaking dietary researcher – but that's irrelevant) made the following observation that to my mind sums up the difference between GETTING and ATTRACTING. He said:
ATTITUDES are more important than ABILITIES
MOTIVES more important than METHODS
CHARACTER more important than CLEVERNESS
PERSERVERENCE more important than POWER
And the HEART takes precedence over the HEAD
Who is most attractive to you – the agent associated with the words on the right, or on the left? When other agents are making rash claims and dodgy promises, you should simply aim to attract. After all, we're in a people business!
So stop getting, and start attracting!
(You might want to start attracting your competitors' clients with a Vendors' Advice Evening! Check out the green button to your left)
I hope you have enjoyed reading this RAT (Rawlings Agency Tip) and that it helps your estate agency become more effective. If you'd like to receive future RATs, usually two or three times a month, then do subscribe, free of charge, to the service by clicking the RAT at the top of this page. Alternatively, should you have any estate agency training or estate agency marketing requirements, either for sales or lettings, then please feel free to contact me personally on the number/email link above.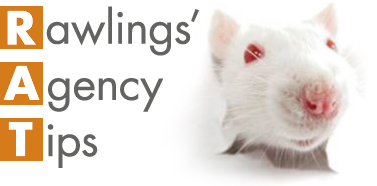 Sign up to the RAT and receive the latest straight to your inbox!