Considering an Estate agency Franchise?
Going it Alone - or Not?
I increasingly hear the word "opportunity" used by my more progressive estate agency clients in the context of the recession. This seems to be at odds with common thinking that the recession is a time when opportunities disappear along with the disposable income of the nation. "Hunker down", as they say in the USA – (does anyone know what hunker actually means? Can you "hunker up" I wonder?).
Many agency principals and managers shrink from the notion of opportunity when times get tough. They cut back on staff (and the associated customer service), cut back on advertising (and the associated new business) and cut back on training (and the associated improvement in staff motivation and efficiency).
Of course, one of the casualties of this market (or rather the market I feel we are leaving) is that some really good agents have been made redundant, had their pay cut, or closed their doors. These are fine agents with a wealth of local knowledge and business experience that it would be a shame to waste.

So what do these people do now? The obvious answer is that they harness what they do well, and go it alone. High risk, but with high potential rewards as well. The problem is that starting from scratch, on your own, in a recession, is probably a higher risk than many are prepared to accept.
This is where the concept of adopting a franchise begins to look attractive. Think about it - a franchise instantly delivers a proven system, recognised brand, business know-how, extensive support, software, office systems, accounting, livery, local/national marketing and PR provided by experts, bulk purchasing power and referrals. Wow! These critical components of a good estate or letting agency business would be blatantly missing from a new start up situation, and they play a fundamental part in reducing the risk associated with starting a business.
Mike Stoop, Head of Xperience, the 85-branch network (inc Parkers, Whitegates, Ellis and Co and CJ Hole brands) that took the Best Franchisor Award at the Estate Agency of the Year Awards, says that the facilitated inter-franchise support and camaraderie alone during these difficult times has played a major role in helping franchisees cope, whilst Miles and Barr have adopted a very different approach to agency, and are offering franchises in their "hub" system of "Business Owner to Homeowner" model.
The UKs largest letting agency, Martin and Co with 160 branches, (also winner of Franchisor of the Year at a different Estate Agency Award Ceremony) is also going to great lengths to support the increasing number of prospective franchisees beating a path to their door, as evidenced by the three new offices they are opening on average every month. They not only employ a specialist letting acquisitions director to negotiate terms and pre-populate franchise areas with stock, but they enjoy an exceptional credit rating with HSBC, who have shown a particular willingness, even today, to lend substantial amounts to prospective franchisees in support of another proven Martina and Co venture.
MacDonalds first proved that franchising was a win-win for all concerned, and, with the right brand behind you, now might be the right time to consider investing a small percentage of income in return for a more secure future.
I hope you have enjoyed reading this RAT (Rawlings Agency Tip) and that it helps your estate agency become more effective. If you'd like to receive future RATs, usually two or three times a month, then do subscribe, free of charge, to the service by clicking the RAT at the top of this page. Alternatively, should you have any estate agency training or estate agency marketing requirements, either for sales or lettings, then please feel free to contact me personally on the number/email link above.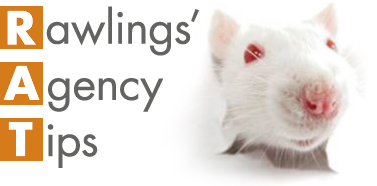 Sign up to the RAT and receive the latest straight to your inbox!