Turning Training into Profit
Why training is an essential agency ingredient if innovation is to be sustained.
Training, like insurance, tends to be something that we all know we should do, but there is never any apparent or pressing need actually to do anything about it. After all, training is for rookies, isn't it? Basic estate agency is not rocket science, and any agent worth his/her salt should be reasonably competent in order to make money in the business.
It is remarkable how many estate agency principals I speak to around the UK who admit that they know they should be providing training for their staff, but either they are too busy and do not have the time, or are too quiet and need to put every moment directly into the business itself. Many fall between the two.
On the surface, estate agency is purely a broking operation. Get houses to sell, find buyers to buy, negotiate terms, and support until completion. Many agencies have opened their doors on the strength of an enterprising individual harnessing the opportunities offered by supply and demand in a sector where formal qualifications are not yet mandatory.
But there is training and there is training. Chances are that any formal qualifications required in the future would exist to ensure that estate agents were aware of, and complied with, relevant legislation created to protect the interests of the consumer. Boring but important, although most agents of integrity do have a perfunctory working knowledge of compliance issues in any event (my friend David Perkins might disagree!)
If this is what training means to agency directors and managers, then it is not surprising that many of them believe that training is something they themselves do not need, (because presumably they are seasoned property professionals). Others feel that they ought to be doing something "to keep the staff motivated". Nice gesture; but these comments suggest to me that many agents are missing the point, and in doing so are missing out on the opportunity to move their agency to new levels of profitability.
The sort of training I am talking about is not just the kind of material you would expect to find on a standard "How to be an Estate Agent" course, covering topics such as basic listing procedures, how to arrive at the correct valuation, how to communicate an offer, etc. Most reasonably bright agents who are naturally suited to the business readily gain a good grasp of this without formal training.
In this competitive business where the good, the bad, and the ugly stand shoulder to shoulder, I am more interested in providing progressive agents with skills that will not only differentiate them from their competitors, but also simultaneously elevate the standing of our industry in the public eye.
Of course, most estate agency negotiators and valuers are a reflection of the people who employ them. (I know one agency where everyone has a beard, because the charismatic principal has one.) There can be great strength in this, and potentially greater weakness. The reason for this is this; the principal is likely to be a successful agent him/herself, presumably because the methods and procedures they have always employed have been effective in the past. The problem is that whereas consumers have tended to become more sophisticated, knowledgeable and demanding, many estate agents remain in the "why re-invent the wheel" trap, and fail to adapt to these changes and evolve with the times.
The "trained-in-the-field" agent is therefore likely to start out well but could eventually become a dinosaur. I speak to many agents who used to be no.1 in their area, and who are mystified as to why their market share has slipped year on year. They failed to recognise the need for change, and relied too heavily on their own knowledge, whilst their open-minded competitors were using fresh innovations that captured the hearts and minds of their clients and prospects. Every living organism needs a replenishable supply of fuel in order to sustain its growth.
In essence, you don't know what you don't yet know! Training is not just about basic competency – it's about acquiring contemporary new skills and techniques that are delivering increases in market share and profitability elsewhere, but which may not yet have infiltrated your own market. You then have the choice to profit from these methods and approaches yourself, or turn your back on innovation and watch your competitors steal your market.
They used to say that necessity is the mother of invention. I believe that this has come full circle and that, in terms of impressing your customers, invention is now a necessity. Most agents appear to offer more or less the same service, so why should a prospect choose your agency over the one next door? Colour particulars used to be a new idea and impressed the client. Now everyone does it. 24 hour a day 365 days a year global advertising to billions of potential buyers was a mind-blowing claim 10 years ago. Today web exposure is taken for granted. No sale, no fee – find me an agent today who charges not to sell your house! Free valuations? So what?
Many agents have run out of unique selling points and have gone running into the only weapon they have left – fee negotiation (don't get me on that subject again)!
I would therefore urge you, especially as we approach a quieter time of year, to consider investing some time and money in training yourself and your staff in some new agency initiatives. Initiatives that will help you overcome the issues of the day; initiatives that will create distinction in your agency; initiatives that will attract and impress your prospects so they will prefer to make you their agent of choice; initiatives that will help you retain your staff longer; initiatives that will transform your business and make you more effective, efficient and profitable; initiatives that will demonstrate your value; initiatives that will free up your own time.
But don't hang around – take the initiative, before it's too late!
I hope you have enjoyed reading this RAT (Rawlings Agency Tip) and that it helps your estate agency become more effective. If you'd like to receive future RATs, usually two or three times a month, then do subscribe, free of charge, to the service by clicking the RAT at the top of this page. Alternatively, should you have any estate agency training or estate agency marketing requirements, either for sales or lettings, then please feel free to contact me personally on the number/email link above.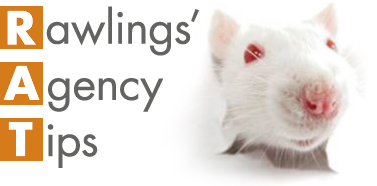 Sign up to the RAT and receive the latest straight to your inbox!