How to Generate Referral Business
THE RAT (Rawlings Agency Tip)
We know that a personal referral is generally much more likely to result in business than a cold approach. This is because a prospective buyer or seller enjoys far less risk when someone they trust has recommended your service to them. The referrer effectively takes responsibility for the success of the referee's relationship with you.
Indeed, in the past, and certainly in the 1980's, such importance was attached to referred business that many estate agencies, especially those with links to financial services, would put pressure on negotiators to generate referral business. This pressure was then transferred onto clients, who, perhaps with a few exceptions, generally retreated from their relationship with the pressuring negotiator as they did not want to be bullied in this way. Overtly putting your own needs ahead of the customer's is always a dangerous move!
So agents then became a bit less pushy and started to offer such "incentives" as an M&S voucher, a case of wine, or £50 in return for a referral. Whilst I know agencies for whom this works to a degree (mainly at the lower end of the market), the uptake is usually low. However, my main concern is that if you have to pay people to refer business, then you don't deserve the referral in the first place! What have you done to earn the business?
I don't believe that people actually phone a friend to ask if they know of a good estate agent, when they are thinking of selling. Most people become aware of a preferred agent when they hear positive things about that agent during everyday life. Property is always a hot topic, especially at the moment, and you need your name to be associated with solutions, service, and success.
This is why it is so important to do things differently from the other agents. To really go the extra mile, to be radical, enjoyable and exciting at a time when others are simply average. For example, when others are blaming the market for low viewings, you will have impressed the seller with a house full of people during an open day (even if most of them are simply nosey neighbours). When other agents phone the vendor to tell them their sale has fallen through, you will have gone round in person with a bottle of wine and an action plan.
In my view, referral business is that superb opportunity that comes your way as a result of someone, at some stage, having been impressed enough to talk about you in a positive light. Progressive estate agents will harness this and deliberately seek ways of generating points of remarkable difference.
(PS: My in-house training courses and marketing consultations for estate agents are peppered with such ideas – why not check out the training section of this website and ask for a quote?)
I hope you have enjoyed reading this RAT (Rawlings Agency Tip) and that it helps your estate agency become more effective. If you'd like to receive future RATs, usually two or three times a month, then do subscribe, free of charge, to the service by clicking the RAT at the top of this page. Alternatively, should you have any estate agency training or estate agency marketing requirements, either for sales or lettings, then please feel free to contact me personally on the number/email link above.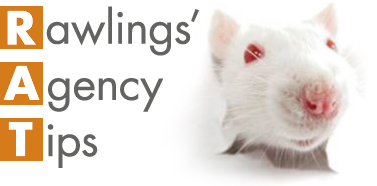 Sign up to the RAT and receive the latest straight to your inbox!