Outrageously Great Service
The RAT (Rawlings Agency Tip) No. 21 Follow-up from my last article
Firstly, thanks to all of you who responded so positively to last week's RAT - you have really kept me busy this week with requests for proposals for bespoke property articles for your local newspaper, mailers, website, etc.
Many of you emailed me in agreement with Martin Gibbs' "community service" approach, but the prize for outrageously good service must go to Sandra from Webbers in Braunton who said (and I paraphrase)
"Our President, being a local person himself, has always been very much of the mind that we should be involved in the community…we've had staff put purchasers up in their own home because the money on the property they were buying has not gone through… we've had staff making curtains where the vendor insisted on taking them and the purchasers were convinced they were included … we've made cakes for our clients... we have people walking into our office just to have a chat, and we might even offer them a lift home.
This is what it's all about, especially when you work in communities like ours. When the media are "having a go' at estate agents they ought to reflect a little on the side of our business for which we make no charge, but which we are convinced is a major contributor to our market share."
As I've always said - referral business is not about people asking which estate agent they would recommend - it's more about who is talking about you? People don't tend to talk about good service (and certainly not about average service). But they will rave about outrageous service. It's the difference between a satisfied client and a delighted one. I can't remember when my stats came from, but I understand a delighted customer is 78% likely to recommend you, whereas a satisfied on is only 17% likely to recommend you! Yet the difference between the two can be minimal.
So this week's message is clear - what are you doing that is outrageous? What will people talk about that you have done for them? You may spend a fortune on marketing, yet you can be proactive in managing your local reputation easily and totally free of charge.
Worth a thought, and if you'd like some help with ideas for your agency I now provide a short, sharp, one-day agency overview and consultation/training service . Feel free to email me if you'd like further details.
I hope you have enjoyed reading this RAT (Rawlings Agency Tip) and that it helps your estate agency become more effective. If you'd like to receive future RATs, usually two or three times a month, then do subscribe, free of charge, to the service by clicking the RAT at the top of this page. Alternatively, should you have any estate agency training or estate agency marketing requirements, either for sales or lettings, then please feel free to contact me personally on the number/email link above.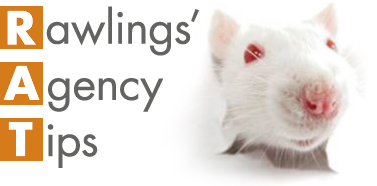 Sign up to the RAT and receive the latest straight to your inbox!