Trust Me – I'm an Estate Agent
Overcoming the salesy stereotype.
(Estate Agency News)
As progressive estate agents move away from the hard-nosed sales attitudes of the 1980's and 1990's, the ability to develop customer trust is more important than ever.
Efforts towards a more consultative approach may have slipped during the recent years of plenty, when agents were appointed virtually as "commodity brokers". Today the best agents are drawing closer to those prospects, buyers and sellers who crave the services of the "consultant advisor" - someone they can trust.
Selling is only part of the value an agent delivers to the client. Considered, reliable advice is just as valuable and needs to be demonstrated before an opportunity to sell can be secured; but such advice cannot be offered in the absence of trust.
Some agents nevertheless feel that their amazing socio-geographic knowledge combined with an upbeat air of self-confidence are still enough to win the hearts and minds of the buying and selling public. However, the modern, well-informed customer is increasingly discerning and will no longer accept being "sold to". Today, the pushy approach is only likely to work with a diminishing number of undiscerning customers who can do very little for the reputation of your business.
I conduct ongoing research as to why people use one estate agent over another. Generally speaking, when asked what they think of their agent, most people will describe how much they enjoyed or hated the buying/selling experience in their agent's hands, rather than focusing on the details of the sale itself. Yet many agents continue to list "benefits" in their marketing material.
When choosing which agent to appoint, a seller needs to be convinced of two elements. First, will that agent sell the client's property for the highest price in the shortest time? In other words, does the agent inspire confidence in his/her ability to do the job? Second, is the agent trustworthy? Can he/she be relied up to deliver the end result in a way that relieves the client of concern, stress, hassle and worry? Some would call this approach "professionalism", but it goes way beyond that. Trust is a word that is more usually associated with the reliability, honesty and integrity of relationships with friends and family members, whereas professionalism is strictly business!
So great are the rewards associated with the ability to establish confidence and trust that The Guild of Professional Estate Agents has recently identified this as being pivotal to the development of the public's perception of its members. Last month, the Managing Director of The Guild, Malcolm Lindley, told me, "in a fragmented industry that claims to offer considered and valuable advice, only those estate agents who can inspire confidence and develop trust will be able to evolve their service and reputation alongside their customers' highest expectations of them. Most agents fail to harness these critical points of distinction in order to differentiate themselves from their competitors."
So what does it mean for a client to have confidence in, and trust, their estate agent? Confidence is the comfort factor that the client feels when the agent demonstrates mastery. This can mean different things to different people, but it is likely to include some of the following: experienced and/or well trained staff, an excellent sales record of similar properties in the area as supported by a good board presence, high profile advertising and internet presence, long opening hours, floor plans, accompanied viewings, strong referral affiliations, financial and legal services, membership of professional bodies, etc.
However, the above "features" are not necessarily a reflection of the style or "personality" of the agency, and have little to do with the building of trust; they are simply factual attributes – none of which are likely to be unique.
Trust begins to be built when the agent is known by name to the prospect or client. You cannot be a secret agent! The simple fact that you say hello to a neighbour is a start. This is supported and multiplied when your name appears in a local press editorial or on a mailshot. A photograph puts a name to a face, and when that name and face are then associated with a favour freely offered, trust ensues.
The favour might be in the form of a market comment or opinion article, or perhaps some sort of property/lifestyle related advice. There are many vehicles you can use which exist so that you can be seen to be putting the prospect or client's needs ahead of your desire for any resulting commission. This means going beyond the norm and beyond expectation – and being brave enough not to ask for anything in return until you have earned sufficient trust! An example of an easy way toward trust is to advise a client not to do something that could benefit you ("I don't think you should buy this house, because…")
Once a relationship is established, trust is consolidated when the client realises that you will anticipate their needs – both direct and peripheral (for example, offering to arrange for the dog to go into kennels on moving day).
A great spin-off to a seller relationship built on trust is that when sellers become buyers, they will have immense loyalty, and will want to buy from you. You will have an easier time selling to them because they will be more accepting of what you say, and will take your advice more freely. The advantages of this are obvious – well-priced saleable stock, a higher viewing-to-offer ratio, fewer fall-throughs and higher perceived agent value, leading to increased commission levels (my favourite topic!)
Ultimately, buyers and sellers desire close and reliable support during the buying/selling process. As an estate agent, you are the best-qualified person to provide this. If you can help your buyers and sellers feel that some of the responsibility is shared with a trusted ally then a faster more satisfying sale will result – and that can do wonders for your reputation and profitability.
I hope you have enjoyed reading this RAT (Rawlings Agency Tip) and that it helps your estate agency become more effective. If you'd like to receive future RATs, usually two or three times a month, then do subscribe, free of charge, to the service by clicking the RAT at the top of this page. Alternatively, should you have any estate agency training or estate agency marketing requirements, either for sales or lettings, then please feel free to contact me personally on the number/email link above.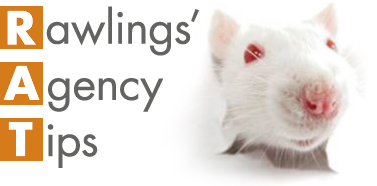 Sign up to the RAT and receive the latest straight to your inbox!