A quick word about time management
RAT 28 (Rawlings Agency Tips)
There have been dozens, if not hundreds of courses, seminars, CDs and books about overcoming the problem of poor time management. Well you can forget them. Don't waste your money. They don't work. At least, not for the people who need them most. Just ask anyone who is inherently bad at time management. Guess what - they are still bad at time management!
If you are one of these people you may well have good intentions towards improving your time management. You have probably bought books to help you overcome the issue, but I suspect that you might not actually have read them. With the best of intentions you are simply too busy!
So here are two quick solutions before you dash out to that appointment for which you are possibly running a little late.
Firstly decide what you have to do either today, or for the rest of the week. Then work out which 25% of it actually does not really need to be done (or perhaps you could delegate it). In other words, if you twisted your ankle and had to go to A&E instead of doing a task – would you really lose out so badly by not doing that thing?
Secondly, it's often as much about time availability as it is about time management. So make more useful time available instead. Do you really need to watch Coronation Street or The X Factor? Do those activities actually enhance your life? Do you really need to spend the time talking about them at the office? You might free up three extra hours a week!
You can create another three hours by getting up 30 minutes earlier each day. Did you know that the most valuable sleep is when you first go to sleep, with the time just before you wake up being the least beneficial?
And how about halving your lunch "hour" or leaving the office half an hour later each day, giving you time to call a few more buyers or sellers.
You have by now effectively created about TWO whole extra working days a week. For free. As long as the work you are doing is profitable, you have therefore just improved your bottom line by around 40%.
"That's all very well in theory", I hear you say. That's true; but I suspect that the most successful people in life are those who watch very little TV, they get up early, and they spend their time actually doing what others only plan to do "when they've got time".
Must dash – running late as ever!
Have a good day.
I hope you have enjoyed reading this RAT (Rawlings Agency Tip) and that it helps your estate agency become more effective. If you'd like to receive future RATs, usually two or three times a month, then do subscribe, free of charge, to the service by clicking the RAT at the top of this page. Alternatively, should you have any estate agency training or estate agency marketing requirements, either for sales or lettings, then please feel free to contact me personally on the number/email link above.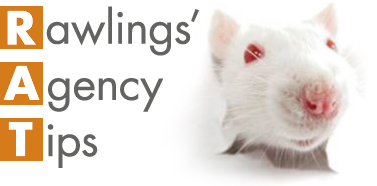 Sign up to the RAT and receive the latest straight to your inbox!