How to Become an Instruction Magnet
RAT 29 (Rawlings Agency Tips) Meaningful Mailings
I hope you have enjoyed the last vestiges of summer and are now champing at the bit to maximise your market share as those green shoots emerge into a "proper" autumn market!
The problem is…the public is not in the least bit interested in your market share! Why should they be? They think all agents are about the same anyway (and they are not wholly wrong in this). You may be proud of your boards, impressed with your ads, in love with your logo and confident that your service is the best in town. So why isn't the phone ringing off the hook? And here's a hard truth…if you "enjoy" an eg 20% market share, the truth is that 80% of the local population have effectively rejected you! Ouch!
Something has to be done! But if you always do what you've always done, you'll always get what you've always got. And it gets worse… you'll probably start to slip back as other agents come up with refreshing ways of attracting clients that could have been yours.
There is a pent-up frustration in the market, yet a much smaller slice of cake to be shared. This autumn, perhaps more than any other, it is critical that you find ways of connecting with those people who would not naturally have been attracted to you. Ways that are generous, informed, meaningful, authoritative and valuable.
By the way, mailers don't "work" in this context. Your competitors are also dropping mailers, most of which simply ask for business that is not yet deserved or earned. This is an insult to the intelligence of the public, and probably repels more prospects than it attracts.
So this week's RAT is a blatant call to action! I'd love to help you make rapid inroads into your market share beginning right now in early September. You may be aware of my Property Article Programme which many of my clients have exclusively used for years, with great success. This is a proven initiative that delivers results. You might want to check it out by hitting the purple button on your left (or email me at rrawlings@estateagencyinsight.co.uk and I'll happily send you some samples). However, during September, if you adopt the programme (which is fully tailored around your needs) I'll also include a series of six professionally-written powerful canvassing letter templates for your exclusive use in your area, plus a £200 credit towards any ! other business we might do together, such as training, or Vendor Advice Evenings.
Please feel free to take me up on this offer, and let me help you harness this opportunity for your business today!
Have a great day, and don't forget you can access all my previous RATs and other agency-related articles at www.estateagencyinsight.co.uk/services/inspiration.php.
I hope you have enjoyed reading this RAT (Rawlings Agency Tip) and that it helps your estate agency become more effective. If you'd like to receive future RATs, usually two or three times a month, then do subscribe, free of charge, to the service by clicking the RAT at the top of this page. Alternatively, should you have any estate agency training or estate agency marketing requirements, either for sales or lettings, then please feel free to contact me personally on the number/email link above.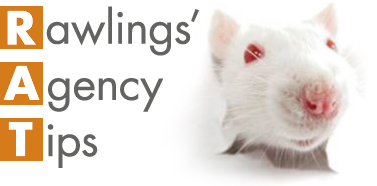 Sign up to the RAT and receive the latest straight to your inbox!