Evolving Beyond Your Competitors
Distinction in agency goes far beyond the colour of your logo.
(exclusive for Estate Agency News)
Estate agents certainly feel the ever-increasing presence of their competitors more acutely than ever. This is of course inevitable, as your competitors continually seek to improve their market share – at your expense.
As current market share can now be measured and tracked easily, progressive agencies increasingly consider their progress in this area alongside revenue trends. After all, changes in turnover could otherwise be attributed to movements in the property market over which the agent has little control.
The importance of market share analysis is critical, as it reflects you ability to extract profit from opportunity, and helps to identify the strengths and weaknesses of your competitors as you evolve your own agency.
When we consider a selection of high street agencies, the opportunity for us to accelerate way beyond them should be strikingly obvious. As I travel the country talking to various agents with differing styles, and training/marketing and developmental needs, I find I can generally categorise them into the following:
• The Corporate Agency is usually the preserve of the major national chain, and aims to impress its publics with its size, national sales figures, investment, technology, graphics, office design and expensive marketing material. Interestingly, whilst these features and brand recognition may provide some degree of comfort, at local level do they really hook in to the needs, wishes and aspirations of the buying and selling public? A national presence is all very well, but is it relevant or meaningful locally? Just like MacDonalds' burger chain – you know what you're getting, but is that what you really want?
• The Aggressive Agency could be seen by its publics as one that may be putting its passion for growth ahead of its clients' best interests. Whilst people may be impressed by the agents' enthusiasm – can they really trust them? Often using 1980's style sales tactics, these agents tend to grow fastest in non-discerning markets, but can find it difficult to raise their fee levels or manage their reputation locally, irrespective of the sincerity of their intentions.
• The "Pillar of the Community" agency probably has between one and four local offices, with a charismatic principal who has been operating in the area for years. Customer focus can be excellent in this type of agency, but further growth can be a problem because of an over-reliance on the personal contribution made by the principal, and a possible reluctance to adopt innovation. This can affect staff moral and retention. If the agency could find ways of empowering its staff, organic growth would be easier and the business would have a higher equity value as it becomes more sustainable and saleable.
• The "International Way" is currently making significant inroads into the UK market, through agencies such as Remax, which has used the system to become the largest estate agency firm in the world. Uniquely, negotiators are paid solely on commission (typically up to 70% in the UK). This tends to attract the top performing agents from competing firms thereby securing a strong local force of excellent all-rounders – a good formula for a successful agency. Customers are exposed to high quality performers rather than poorly-motivated negotiators, and low staffing costs mean that these firms can grow quickly.
• The One Man Band is where an entrepreneur sees an opportunity to create a profitable business. Possibly having trained with an estate agency or being a peripheral operator such as a mortgage advisor or surveyor, this individual tends to start small because of financial constraints, unless he/she can sell a bigger picture to a financier. The latter option allows the agent to think strategically and develop a valuable business, rather than running around selling houses 24 hours a day until he/she dies. The best of intentions sometimes fall by the wayside as he/she gets bogged down with the day-to-day affairs of running an agency. There is little time to implement some of the more creative innovations that could have catapulted the agency into a market-leading position.
• The Complacent Agency. This can apply to any of the above, and is where the agency enjoys significant market share, sometimes leading to the principal saying "we're doing fine – let's just stay as we are". Dangerous talk! Henry Ford controlled the car market with his Model-T, but he decided to discontinue it as part of a policy of ongoing development that has kept Ford at the forefront of the motor industry for nearly a century.
(Before you write to the editor, please forgive my assumptions, as I know there are many exceptions to the above observations in every category.)
Each of the above styles has its place, but style without meaning misses an opportunity to demonstrate relevance and value.
The public believes that most agents generally do more-or-less the same thing (and they're right). It is therefore critical that you create points of distinction that go way beyond simply listing the service features offered by your agency, as these are likely to be pretty similar to those of your competitors. We need to start giving people tangible reasons to prefer to do business with us, rather than a competitor.
To use a romantic and somewhat sexist analogy in this age of political correctness, I could state that all women have more or less the same physical attributes. However, some are more attractive than others. But I married my wife Charlotte not just because of these, but because she meant (sorry, means) something more than that to me. A synergy of personalities and a meaningful relationship built on trust and reliability.
So in terms of your agency's "individuality", your graphics and physical image are simply window dressing. Your features may reflect your abilities, but what are your core values, and how are these converted into meaningful messages and how are these then conveyed to your target audience? These important issues lie at the centre of your reputation which, when managed well can engineer your agency into a position that will leave your competitors wondering what hit them.
I hope you have enjoyed reading this RAT (Rawlings Agency Tip) and that it helps your estate agency become more effective. If you'd like to receive future RATs, usually two or three times a month, then do subscribe, free of charge, to the service by clicking the RAT at the top of this page. Alternatively, should you have any estate agency training or estate agency marketing requirements, either for sales or lettings, then please feel free to contact me personally on the number/email link above.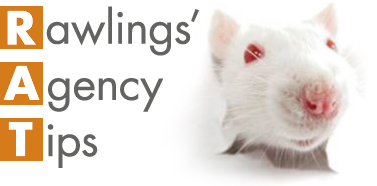 Sign up to the RAT and receive the latest straight to your inbox!