What Agency Training is not!
RAT 34 (Rawlings Agency Tip)
It seems that agents are starting to take outsourced training seriously again - prompted no doubt by the acute shortage of stock in many areas.
However, one of my concerns is that there are still too many estate agency principals who like the idea of training but simply cannot apparently justify the time out of the office for their staff to attend. But look at it this way - would you avoid stopping for petrol on a long journey because of your eagerness to arrive at your destination? Or would you deliberately stay awake all night to ensure you don't miss your alarm?!
Sometimes an immediate investment can pay dividends far in excess of the initial cost. This is especially the case in agency, where you can, for example, apply powerful instruction-gaining techniques withing hours of the training.
Just to be clear about what training is not, and what it is, in the context of estate agency. From my perspective, outsourced agency training is not about general good practice, legislation, back- to-basics type content. Estate agency is not rocket science and principals and managers should already be providing this type of training and support internally as part of the day-to-day management and personnel development process. Okay, an external trainer can be used to reinforce and refresh some messages that may be wearing a bit thin when repeatedly delivered by the same manager. But for me and my clients, estate agency training should be much more vibrant than this.
So if external training is not about legislation and best practice, what is about? The answer should be clear from your answer to the following question: "What do you want to achieve with your estate agency?" If your answer is "legal compliance" or "excellent customer service" then I wonder if perhaps you are beginning to believe your own spin! Presumably the real reason you set up (or manage) the agency is less altruistic. You want to make money. You want to make a profit. You want to become financially comfortable and secure. You want to sell the business one day and retire early. In essence, you want your estate or letting agency to be successful, and whilst compliance best practice are non-negotiables, they are not, on their own, a formula for success. Nor is great customer service.
So training must be about empowering your staff to deliver your "success objectives". In other words, it is about enabling them to be more profitable and commercially aware, equipping them with the new techniques they need to overwhelmingly capture increased market share, with improved conversion ratios, more saleable pricing methods, higher fees and seriously impressed clients. It is about sharing new ideas that inspire those agents who may be somewhat stuck in their ways, or providing less experienced agents with precisely the right solutions for any eventuality.
If the above touches a nerve, I'd be delighted to let you have a bespoke training proposal on request. If we are not already in touch over this, then just drop me an email at rrawlings@estateagencyinsight.co.uk and I'll get a proposal over to you.
Oh yes - my RAT for this week is as follows: when you're looking round a property on an instruction it's easy to tell the seller how nice their house is. Most agents do that, and such enthusiasm is certainly valuable. But it can be a bit predictable. I suggest that it can be better to flatter the seller - not the property! In other words, phrases like "what a good idea to have knocked that wall through, because it lets so much light in. Was that your idea?" or "I can see you have put a lot of time and effort into this garden", or "I'll bet you really enjoy entertaining in this kitchen"*. Each of these prompt a flow in the conversation whilst elevating the seller, which could just swing them your way! (*by the way "Nice arse" is not acceptable at this stage)
And my quote of the day is from Seneca (5BC-65AD) "Difficulties strengthen the mind, as manual labour does the body"
I hope you have enjoyed reading this RAT (Rawlings Agency Tip) and that it helps your estate agency become more effective. If you'd like to receive future RATs, usually two or three times a month, then do subscribe, free of charge, to the service by clicking the RAT at the top of this page. Alternatively, should you have any estate agency training or estate agency marketing requirements, either for sales or lettings, then please feel free to contact me personally on the number/email link above.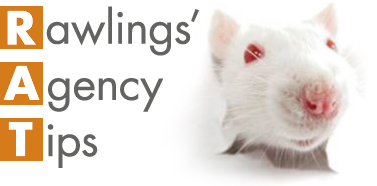 Sign up to the RAT and receive the latest straight to your inbox!