Harnessing the Valuation Opportunity
You only get one shot at a listing, so make it work first time.
(Exclusive for Estate Agency News)
I met an agent recently who was worried that he only converted 20% of his valuation visits into confirmed instructions. I was not surprised he was worried, as 20% is appallingly low and clearly there was a major problem somewhere. Was there a competitor with an overwhelmingly compelling sales line, or was my client just very weak in the area of securing saleable instructions, despite his 30 years experience?
It turned out that most of the agents in town were not dissimilar to most of the other agents in town (in some places, mediocrity is king!). So the problem must rest with my client. I asked him about his listing procedure, and he told me that he goes round the property briefly and then, on his business card, he writes his valuation with his (very low) fee percentage alongside, and then leaves. "And that's all you do?" I asked.
He told me that he is a straight-talking call-a-spade-a-spade type of guy (as if I didn't need telling by then), and that he'd wasted too much time in the past on people who didn't do business with him. He also felt that people prefer straight talk. Possibly so – but not disinterest to the point of rudeness. He had effectively allowed his past negative experiences to dictate his attitude towards future business. If your mindset is "I probably wont get this instruction" then you probably wont! Which successful athlete ever started a race with failure in mind?
The very best agents secure most of their instructions by employing listers who are superb with people, and who are trained in the psychology of selling coupled with a few really smart listing innovations. These are the agents who walk away with the instruction irrespective of their relatively low (or realistic) valuation and high fees.
However, we all know that some "other" agents typically overvalue properties as a cheap way of impressing the vendor, along with a penchant for reducing fees (see last month's article). These agents do not have the skills of influence in place so cannot persuade a vendor to quote the right price from day one. If they use the overvaluation gimmick to secure the instruction, then there are two likely outcomes to this scenario. They will either sell the property at an acceptable figure within a reasonable timescale (in which case their valuation actually proved to be correct) or the property will go stale on the market and subsequently be reduced in price, costing the seller time, money and heartache.
Of course, there is no point being right, but broke! So we need to look at smarter listing initiatives that overcome the problem of bullish competitors – especially as we are possibly on the brink of entering a market where valuation will become a particularly sensitive issue.
I believe the way in which we typically quote an asking price and encourage offers below this is fundamentally flawed. It effectively suggests the maximum likely price payable; and who wants to pay the maximum? Offers below the asking price are inevitable and prompt the risk and hassle of a potentially complex negotiation.
However, elements of the Scottish system are increasingly being adopted by progressive agents elsewhere in the UK . They quote "offers over" a certain figure. Then, once they have a handful of interested parties they set a closing date a few days hence, by which time each party is invited to submit their best and final offer by sealed bid, based on the minimumamount quoted.
The element of competition and no provision for negotiation means that buyers are forced to make their best offer immediately or risk losing the property. The vendor is likely to have a choice of offers on the table, and can accept the most attractive one based on price, ability to perform, timing, etc.. Scottish agents tell me that they typically conclude sales, on average, at a staggering 15%-20% over their asking prices!
In the US this system is being taken to the next level with a system called Variable Price Ranging (VPR) and again the early adopters in the UK are already reaping the rewards. With VPR, no asking price is set, but a price range quoted. This is likely to be about 6% below the likely market value to 8% above the likely market value. The bottom price suggests to buyers that they could possibly acquire a property that could be worth as much as the higher figure, and genuinely represents excellent value. Again, this prompts intense activity from a greatly widened pool of buyers and generates a selection of offers throughout the range.
These pricing systems are not suitable for every property, but for more unusual or particularly sought after or rarely-available homes they are superb, as they let the market determine value, not some overly-bullish agent. In fact, your top VPR price can even exceed your competitor's high price without it jeopardising the sale, whilst simultaneously rocketing your chances of getting the instruction! Ha!
The skill in each of these techniques lies partly in encouraging the seller to quote a low price in order to stimulate buyers, as competition among buyers is the most reliable way of securing the best offer, and quickly. But please do not rush into this blind as there are several traps along the way, and specialist training is required (please see me afterwards!).
If you are managing your reputation proactively to the extent that vendors are approaching you as their obvious agency of choice, then you should be able to convert at least 70% of your listing presentations into sole agency instructions. If you are, then your next priority should be to ensure that those listings are saleable, and that always comes down to price! No exceptions! Have you looked at your conversion ratio trends recently?
I hope you have enjoyed reading this RAT (Rawlings Agency Tip) and that it helps your estate agency become more effective. If you'd like to receive future RATs, usually two or three times a month, then do subscribe, free of charge, to the service by clicking the RAT at the top of this page. Alternatively, should you have any estate agency training or estate agency marketing requirements, either for sales or lettings, then please feel free to contact me personally on the number/email link above.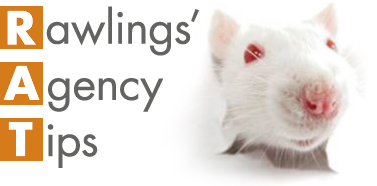 Sign up to the RAT and receive the latest straight to your inbox!